BITSian bond inspires innovation, achievement and leadership at BGM 2014
The Birla Institute of Technology and Science (BITS), Pilani, India's premier independent university, along with BITSAA, its global alumni association, announced plans for the next BITSAA Global Meet (BGM) to be held in Dubai in 2016-17..
In the presence of Prof. VS Rao, Director, BITS-Pilani Hyderabad campus, Dr. Ashok Agarwal, Chairman, BGM; Sanjay Kendry, CEO, BGM; Raju Reddy, Chairman, BITSAA International and Rohit Koul, CEO, BITSAA International along with 1500+ BITSians and their families, the organizing team of BGM 2014 handed over responsibilities to the BGM 2016-17 team as part of the closing ceremony of the three-day extravaganza.

BGM 2014 coincided with the Golden Jubilee celebrations of BITS Pilani and witnessed several thought-provoking panel discussions on the theme of innovation, achievement and leadership. Octogenarians and sexagenarians going back to 1950s (when BITS Pilani was called Birla Engineering College) went down the memory lane as more than a 100 BITSians shared their experiences at the meet. Ranging from Padma Shri D. Balasubramaniam of the 1953 batch to young achievers from the current batch who have incubated their own companies and started research projects, an array of BITSians shared their perspectives and served as inspiration to other alumni and young students. Some hot ventures by current BITSian students that were represented at the event include Exotel, a smart virtual phone number for businesses; Cubito, a smart car-pooling service; Amaterasu Electronics, offering home automation and voice control solutions for India; Recopro, company specializing in recyclable paper pallets; Securite, into Image processing based under vehicle surveillance automation solutions; Sattva Healthcare, a low cost Fetal Heart Monitor which can give sufficient warning to medical practitioners and save lives as well as Framebench, working towards online collaboration and communication for creative teams among others.Commenting on 50 years of BITS Pilani and a successful BGM 2014, Prof. VS Rao, Director, BITS-Pilani Hyderabad, said, "We are extremely proud to see our alumni come together and contribute to their Alma Mater year on year. It is a manifestation of the values that we instil our students to innovate, to achieve and lead that so many of them are at the helm of a stellar group of companies across functions, roles and geographies. This will go a long way in helping us achieve Vision 2020 goal of being one of the top universities in Asia by 2020."

As a run-up to BGM 2014, top BITSians rang the opening bell for NASDAQ putting BITS Pilani on the global education map. The distinguished BITSian team included Raju Reddy, Chairman of BITSAA International and Advisor to Chairman, Hitachi Data Systems; SP Kothari, Deputy Dean and the Gordon Y. Billard Professor of Management at MIT's Sloan School of Management; Prem Jain, co-founder of Insieme Networks; Atul Bhatnagar, CEO of Cambium Networks; Preetish Nijhawan, co-founder of Akamai Technologies, Inc.; Viggy Mokkarala, Executive Vice President, Envestnet, Inc.; Nasir Memon, Professor and Department Chairman, Computer Sciences and Engineering, NYU; Shashikant Khandelwal, co-founder and CTO of TheFind among others.
Speaking on the response to BGM 2014, Raju Reddy, Chairman, BITSAA International, said, "Starting from the NASDAQ opening bell ceremony to BGM 2014, the response from BITSians from across the globe has been overwhelming. Some of the learnings from the various sessions of BGM will remain with us for lives. It is a testimony to brand BITS Pilani and the bonds that we forge in our college days across batches and geographies."

Some highlights from BGM 2014 include:

The 30-under-30 showcase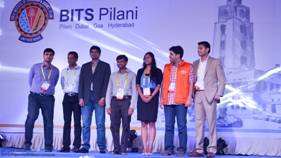 Since 2005, every three years, the 30-under-30 awards are presented to honour outstanding BITSians under the age of 30 who have demonstrated excellence in their chosen area. At BGM 2014, some achievers that showcased their work under this category include Samay Kohli, CEO, Grey Orange Robotics, developer of leading-edge products and services in robotics and warehouse automation business; Phanindra Sama, Founder & CEO, RedBus, India's first online bus ticket booking service; Divya Nawale, the first and only BITSian woman to step onto Antartica as an Environmental Leader to represent India on an International Expedition along with young people from 45 other nationalities; Kavikrut, co-founder of Mobile Medics Healthcare, a venture aimed at solving the last-mile problem of rural healthcare through travelling teams of doctors and mobile vans (later acquired by the Piramal Group to start Piramal eSwasthya); Abhijeet Gan, a co-founder of Rite Water that helps provide drinkable water to villagers in Maharashtra, Chhattisgarh, and Madhya Pradesh; Siddharth Loganathan, currently working in the advanced technology development group of Stryker Corporation, one of the world's leading medical device companies, towards affordable healthcare and Mahesh Ramasubramanian, a specialist in producing computer graphics imagery for feature films, he has been associated with movies such as Madagascar 3, Shrek, Over the Hedge, Bee Movies and Monster Vs. Aliens among others.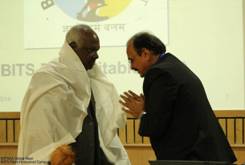 Gurudakshina by Class of 1970-75
Gurudakshina is the signature program by the BITS 75 Charitable Trust (of the 1970-75 batch) and is held every year to offer gurudakshina to professors who taught in their times at Pilani. During this program, the batch members honour seven gurus with a citation, shawl and cheque while recalling their contributions in students' lives. This year the professors who were awarded include Prof RR Gulati, Prof VV Mandke, Prof RP Jain, Prof CS Rao, Prof GP Awasthi, Prof KR Chandoke, and Prof RB Saxena. They were honoured by students from the 1970-75 and presented with a total amount of Rs. 1 lakh each.
Concluded.
.