Business of Entertainment - A guest lecture by Mr. Narayan Ranjan, CFO, Viacom 18
Many Indians are addicted to, or at least know about the television channel "Colours". Almost every kid's television cartoon destination is nickelodeon.
Most of the youth is hooked on to MTV India and VH1. Many more have been to the movie theatres to watch movies like Madras Café, Bhaag Milkha Bhaag and Kahaani. One thing common among all these is Viacom 18 Media Pvt Ltd – providing entertainment to the entire country. It was an honor for the students of Vinod Gupta School of Management, IIT Kharagpur, to attend a Guest Lecture on 5th September 2013 by Mr. Narayan Ranjan, Chief Financial Officer, Viacom 18.

Mr. Ranjan, while working with Viacom 18 for the past 9 years, has been driving growth and profitability, managing strategic and financial planning, mergers and acquisitions, and commercial negotiation. He has also managed legal, information systems and operations in the formative years of Viacom18. His previous stint at STAR group, included setting up of Star News , spearheading Finance & Commercial functions as well as head of Planning for STAR group's overall India operations.

He has been involved in some of the success stories and launches in the media industry including the re-launch of Star Plus in 2000, launch of Colors in 2008 and formation of JV with Network18 in 2007. He was nominated for "Global Excellence Awards" of Newscorp for his extra-ordinary achievements in setting up Star News.

Mr Ranjan amped up the energy in the room by starting his lecture with a video, showing the students what Viacom 18 does and their plans for the future. There was a buzz among everyone since they had either grown up watching these shows and channels, or were still watching them. With this mood he started talking about how Indian entertainment has had a global impact and is spreading and growing in many countries. He spoke about how media is a medium between the content made and the customers.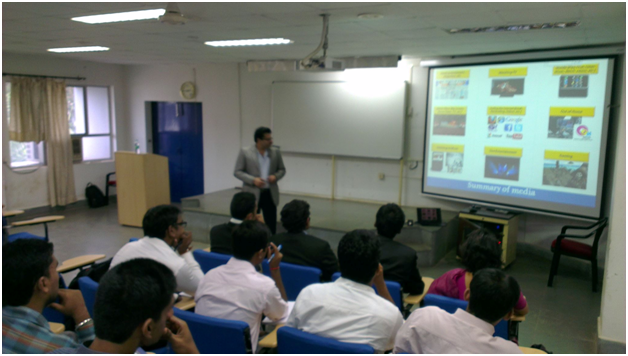 He also pointed out something surprising, that motion pictures or movies which would be expected to be the most growing or developing segment in media, in fact have a very small share in the media world. It is the gaming segment that is growing by leaps and bounds.

He spoke about how the media business is unique in the sense that the "products" are generated by producers (shows, movies etc.) and also by users (YouTube videos, bloggers etc.). Shift to online media has brought in two way communication. Association of brands with the right channel is necessary to target the right market for sales.

Media "products" have multiple sources of revenue. The product can be transformed by expanding it from one genre of entertainment to another. The best example for this being online games being launched after the release of a movie. For example, Disney spends around 7-8 billion dollars for brand extension! Product longevity assures income until the product is being used in the market.

The students also learnt about the major challenges in the media and entertainment business - cost structuring, piracy, funding challenges, regulatory environment and business sensitivity. Technology not only helps this industry but also acts as a disruption in the sense that with growth in technology, users resort to different ways of obtaining the products thereby lowering the control and subsequently the revenue of the media houses.

Mr. Ranjan concluded by talking about the growth in the importance of media and entertainment and how major technology companies are venturing into this business. The guest lecture ended on the same lines as it started, with Mr. Ranjan showing a clip of how widespread Indian entertainment is, in the world and how much scope and opportunity we have to progress faster than other countries in this industry.
.