Cairn India to hunt for "amazing champions of energy" in India's premier institutions
Cairn India, the world's fastest growing energy company according to Platts, is running the second edition of its successful campus engagement programme- Amazing Champions of Energy (ACE) – II. Under this programme, the company conducted a case study competition at the National Institute of Industrial Engineering (NITIE) - Mumbai, on the theme 'Oil subsidies: Are we stealing from our future generations'?'

Through this initiative, Cairn India aims to engage some of the brightest minds in India through case study competitions, on-campus talks and presentations to find out innovative solutions for sustainable environmental growth.
Within a span of three weeks, ACE-II has already covered prominent campuses across the country, such as RGIPT- Bareilly, SVNIT- Surat, IIT-Delhi, IIT-Roorkee, IIT-Kharagpur, ISB-Mohali and XLRI, Jamshedpur, ISB Hyderabad, IIM Calcutta and PDPU Gandhinagar. Over the next few days, the programme will reach out to a dozen more campuses across India.

ACE-I saw wide-spread participation, attracting more than 5,000 students, from top management, engineering & technical institutes across 6 states. ACE-II will take forward the initiative to cover 25 campuses, including the IIT's, IIM's, ISB and other leading business, engineering and liberal arts campuses across 9 states to reach out to more than 10,000 students. The engagement has been extensively supported by social media engagement on Facebook and this time Twitter through contests, updates, etc.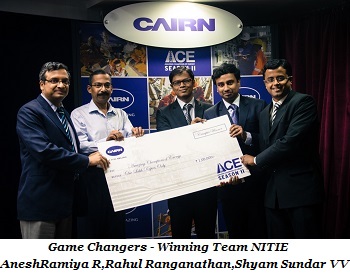 Energy consumption in India, world's third-largest energy consumer, will more than double by 2035. India currently imports ~3.5 million barrels of crude oil every day and forecasts portend that this demand will only increase. According to the International Energy Agency's World Energy Outlook 2012, India's fossil-fuels import bill will exceed US$ 400 billion in 2035, compared to US$ 120 billion in 2011. With demand for oil & gas expected to increase further, it is critical to address energy security concerns.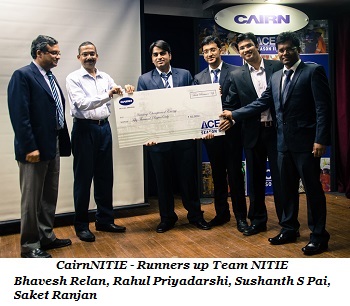 There is thus immense potential in the energy sector in India and educational institutes play a critical role in grooming young talent to harness this potential. Through ACE, Cairn India aims to reach out to the youth through collaborations with leading educational institutions across India.

The ACE-II platform brings together students from across India to brainstorm on the critical issue of 'Oil Subsidy', which has multiple facets – economic, political and social. Cairn India believes that by championing and driving various issues pertaining to the energy sector, the nation stands to benefit from a more vibrant, enriched and active oil and gas sector. The leaders of tomorrow shall play a key role in fuelling this sector and thus the nation's energy security.
.