CheckCar.in won Grand Finale of Next Big Idea 2013
An online platform for easy and fair transactions of used cars; a device that can transform the lives of autistic kids and their caregivers; and low-cost LCD glasses for those with low vision – these big ideas and their creators were feted at the Grand Finale of the Next Big Idea 2013, hosted by the Nadathur S Raghavan Centre for Entrepreneurial Learning (NSRCEL) at the Indian Institute of Management Bangalore (IIMB)..
Ttatva Innovation Labs, comprising Naresh Khanduri, Ritwik Batabyal and Santosh, won the prestigious b-plan contest that had attracted 6,000 entries. Their project, CheckCar.in, that helps people make informed choices while buying/ selling cars fetched them the first prize – a purse of Rs 1.5 lakh.
Globsol, with Manoj Sanker and Mrinal Parekh, telecommunication students of PESIT, was declared the first runners-up and won Rs 1 lakh. Technology that aims to make life better for kids with autism and their caregivers is Globsol's guiding principle. They have developed a smart watch that helps parents monitor emotions of their children. The device also helps send an alarm to the parents' phone when the child experiences high levels of stress.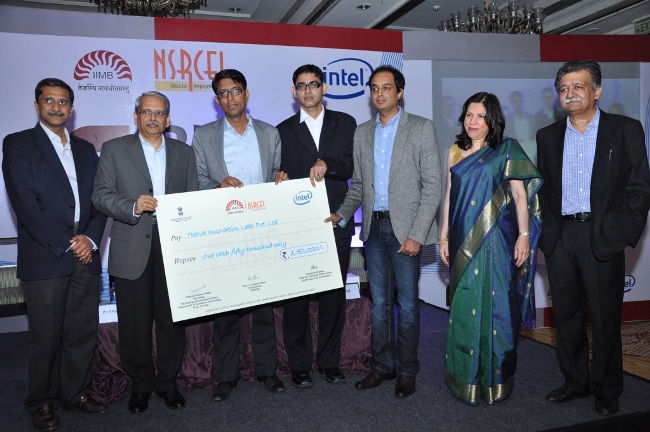 Picture caption: Prof Pankaj Chandra, Director, IIMB; Mr S Gopalakrishnan, Vice Chairman, Infosys Ltd; Winners of NBI 2013 Naresh Khanduri, Ritwick Batabyal & Santosh (Ttava Innovation Labs); Ms Kumud N Srinivasan, President, Intel India; and Dr Harkesh Mittal, Secretary, Technology Development Board, GoI, at the Grand Finale of NBI 2013
"This award is very special to us because it says that we are being taken seriously finally," quipped 21-year-old Mrinal Parekh, adding, on a more serious note, that Next Big Idea 2013 provided a platform for young entrepreneurs to compete with the best.
The top two teams of the competition will participate in the Intel Global Challenge to be held at the Haas School of Business at the University of California, Berkley.
Visionaries, the second runners-up, comprising Jairaj MV and Mukul Mohan, from IIT-Madras, won Rs 75,000 and the opportunity to participate in the Asia Pacific Entrepreneurship Contest in Taipei, Taiwan.
Mr S Gopalakrishnan, Co-founder and Vice Chairman of Infosys Ltd, who delivered the keynote address, emphasized the importance of startups, remarking that innovation and entrepreneurship were required now more than ever in India.
The National Science and Technology Entrepreneurship Development Board (NSTEDB) of the Department of Science & Technology, Govt of India, and Intel India, are the sponsors of Next Big Idea.
Prof Pankaj Chandra, Director, IIMB, said that an ecosystem of startups should be developed in such a way that the small firms grow while other small firms continue to innovate and provide innovative energy to large firms.
He emphasized the role of IIMB in building an innovation ecosystem of which academia, industry and government are three strong pillars while contributing to scholarship at one end and solving industry challenges as well.
.