Demand for Management Education Up From 2011: GMAC 2012 Survey
| September 17,2012 10:05 am IST
Demand for graduate business and management education around the world shows signs of renewed growth, as 51 percent of programs surveyed by the Graduate Management Admission Council report more applications than last year.
Overall demand as revealed in the 2012 Application Trends Survey is spread among a greater variety of program types, including part-time self-paced, flexible, and online distance MBAs, as well as specialized masters degrees in business, including information technology management.
As the global business space continues to become more complex, there is a greater demand that business schools today offer specialized and flexible programs to meet corporate and student needs, said David Wilson, GMAC president and CEO. Worldwide, these diverse graduate management programs are drawing different kinds of students. Technology is a part of the solution to this challenge, but it is not the entire solution. Flexibility in delivery mode, cadence of the program and the characteristics of the class cohort are now all variables in the graduate education solutions being offered. The message students and companies are sending is clear; one size does not necessarily fit all.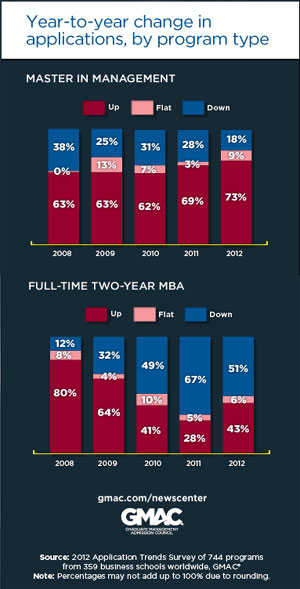 The annual survey, which charts year-to-year application changes at the program level, shows that specialized masters programs in management, finance, and accounting continue to show robust growth, and applications to full-time two-year MBA programs appear to be stabilizing globally, with about half of all full-time two-year MBA programs showing increases or holding steady from last year.
In open-ended comments, admissions professionals responding to the survey noted that economic conditions continued to play a role in student demand for programs. [A students] reluctance to leave full-time position, cited one admissions professional from a US full-time two-year MBA program. The economy is picking up and students are finding full-time jobs or have received promotions and do not want to leave to go back to school for two years, said another.
A record 744 programs from 359 business schools in 46 countries participated in the survey this year. They include 527 MBA programs, 24 business doctoral programs (PhD/DBA) and 193 specialized masters programs. This years survey report includes, for the first time, results for masters in information technology management and masters of marketing/communications.
Key findings include:
51 percent of all graduate management programs reported more applicants than last year, 39 percent reported fewer, and 9 percent reported no change.
Specialized masters programs in fields such as management, accounting, and finance continue to enjoy robust growth. For the fifth straight year, majorities of each program type report more applications than the year before.
Fueled by application gains among online and distance offerings, 46 percent of all MBA programs saw improved volumes in 2012, 45 percent saw declines, and 10 percent reported no change.
Among full-time one-year MBAs, 47 percent reported application increases, 44 percent reported decreases, and 9 percent reported no change from last year.
Two-year full-time MBA programs showed substantial regional differences. For example, 79 percent of the full-time two-year programs in Asia Pacific reported application increases, 14 percent reported decreases, and 7 percent reported no change. Meanwhile, 32 percent of full-time two-year MBA programs in the US reported application increases, 62 percent reported decreases, and 7 percent reported no change.
The trend toward greater internationalization in applicant pools continues, with most program types reporting increased or steady application volume from foreign citizens.
The quality of applicant pools remains strong. Some 90 percent of all MBA programs and 94 percent of specialized masters programs reported that their 2012 applicant pool was more than or as qualified as last years applicant pool.
Concluded.
.