Give wings to your aerospace dreams with Airbus
The Indian Institute of Management Bangalore (IIMB) and Toulouse Business School have signed an agreement to set up India's first Executive General Management Programme in Aerospace and Aviation Management as a first step towards collaborating in teaching and research..
As part of its commitment to develop aerospace management education in India, Airbus is sponsoring the two year part-time degree programme to develop and nurture local talent in the field of aerospace.

The Aerospace MBA will be the first of its kind in India and is conducted by Toulouse Business School, whose own established and respected Aerospace MBA course has a strong business focus. Each year up to 75 students will be enrolled in the course.

"India is one of the fastest developing countries in the aviation market and is also one of the richest talent pools for the next generation of business leaders and we want the best to enter the exciting world of aviation," said Dr.Dwarkanath Srinivasan, CEO of Airbus India. "With more passengers flying each year in India, there is an increasing need for expertise in aviation business."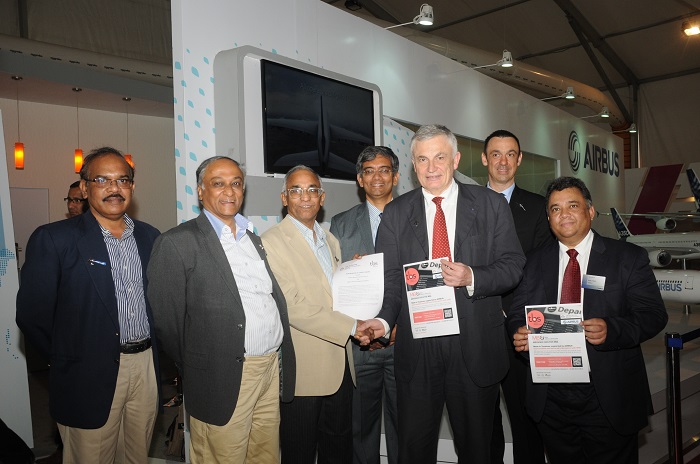 The partnership has been established to address the need to develop the next generation of India aviation professionals.

Jacques Igalens, Toulouse Business School Dean said: "With the constantly evolving aviation landscape, the aviation industry needs world class leaders to anticipate trends and provide innovative solutions in today's fast changing and uncertain globalised markets. This programme truly aims at answering this need."

Prof DevanathTirupati, Director in charge of IIM Bangalore said, "We are delighted we'll be offering the first Executive General Management Programme in Aerospace and Aviation Management in India and to be supported by world leaders Airbus and the Toulouse Business School. The students will also have the option of earning an Aerospace MBA degree from Toulouse Business School. We strongly feel that this will give the right skills and the best possible training for our next generation of aviation sector business leaders."

Airbus has been supporting India's aviation sector and its sustainable growth for over 40 years through cooperation agreements in engineering research, design and manufacturing. Today, Airbus directly and indirectly supports some 5,000 local aviation jobs making the company India's biggest foreign based aircraft manufacturer.
Concluded.
.