IIM Kashipur organized 'NEEV', A Seminar on Supply Chain Excellence
IIM Kashipur organized 'NEEV', A Seminar on Supply Chain Excellence, on 22nd February 2014, at Radisson Blu, Rudrapur, Uttarakhand.

This Seminar on Supply Chain Excellence (SoSCE), is an annual event which provides a platform to share the forward looking best practices in operations and supply chain with top leaders and seasoned professionals from the same community.
The seminar intends to take a holistic approach and this year the theme for discussion would be "Goods and Service Tax, Logistics, Warehousing" and "Green Supply Chain". Corporate leaders from reputed organizations are invited to be speakers / panellists, including:

1. Mr. Suresh Singhal (Managing Director, Himalayan Group)
2. Mr. Parijat Ghosh (Partner, Bain & Co.)
3. Mr. Naveen Rajan (Functional Head, HP)
4. Mr. Devdatta Ratnakar (Independent Research & Consulting Professional)
5. Mr. Kampan Mukherjee (Professor, ISM)

The event began with Director of IIM Kashipur, Dr Gautam Sinha, addressing the audience. He said, "The world has realized that the resources are limited and we have to consume them effectively and responsibly so that they are protected for the future generation. For this, environmental policies need to be reframed. GST will provide an incentive to increase efficiency and profitability of logistics and warehousing. In this context, IIM Kashipur emphasizes on sustainability of resources through discussion with industry in this event".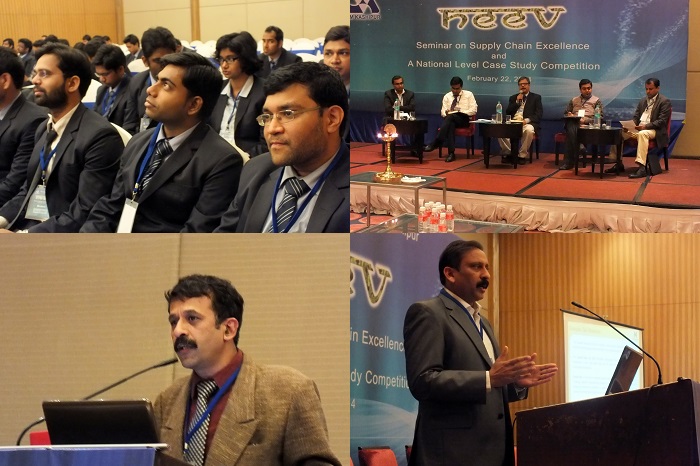 After this the keynote speaker, Mr. Suresh Singhal, emphasized the importance of Goods and Services Tax (GST) through his speech. He said,"GST will convert complex tax structure on goods to a uniform one. It will have an optimistic effect on supply chain. It will also help the consumers who are the end users of the supply chain. Not only this, GST will help reduce corruption in the system by making it more transparent". This was followed by panel discussion on the two mentioned themes by our esteemed panelists.

This also entailed a national level case study competition based on the themes, in which top 5 teams from various institutes (IIM Rohtak; Faculty of Management Studies, University of Delhi; FORE; IMT Ghaziabad, and IIM Kashipur) participated. This event was sponsored by Hindalco.

Panel Discussion 1 - Logistics, Warehousing & GST
Goods and Services Tax (GST) will be one of the most ambitious indirect tax reform rolled out by the Indian government. It will impact all major sectors of the economy, including supply chain of all major organizations in the country. Under the supply chain domain, logistics and warehousing are the two main sectors that will experience major changes once GST is rolled out in 2015, as expected. Tax avoidance being a major focus of the organizations, warehousing and logistical efficiency are put on the back burner. How GST going to change this sector and thereby leading to increase in efficiency of all major supply chains ;what will be the effect of this tax reform on the role of third party logistics providers in the entire supply chain, are the questions to ponder upon.

Panel Discussion 2 - Green Supply Chain
Integrating societal and environmental aspects of doing business into the core concept of supply chain is the basic idea behind promoting green supply chains in the current business framework. The current focus of government and businesses alike in creating sustainable business models has led to incorporation of this concept into core organizational policy. The surging environmental constraints due to global warming concerns, increasing focus on Corporate Social Responsibility and growing awareness among the stakeholders have increased the importance of green supply chains. At this economic junction, what would be the approach of government in formation of environment policies, and the corresponding changes in strategy of organizations due to these regulations in form of their CSR activities?
Concluded.
.