IIM Kashipur organizes Kashipur Marathon 2013 - "A run for Safety and Dignity of women"
| January 29,2013 11:26 am IST
On the occasion of 64th Republic Day, Indian Institute of Management Kashipur successfully organized the Kashipur Marathon themed 'A run for Safety and Dignity of women'. The event witnessed a great response with more than 1000 people from different walks of life including students participating in the Marathon.
The Kashipur Marathon was a 6 km run in which Lakshmi Kumari and Neha Kumari emerged as the winners in the women's 6 km run. Rajat Karki and Sheeshpal Singh Saini were respectively the winner and the runner of the men's 6 km run. Master Harsh Deep Singh and Master Yashpal Singh emerged victorious in the run for under 14 years category. The organizing team started registrations from 20th January and by 25th January the participant count reached 800. There were around 500 registrations on the day of the event which included participants from various schools, colleges and social welfare organizations in and around Kashipur who reached the venue after celebrating Republic day in their respective organizations. The crowd was very enthusiastic and exuberant while few school children painted their faces to show their support for the cause and represented the spirit of our nation.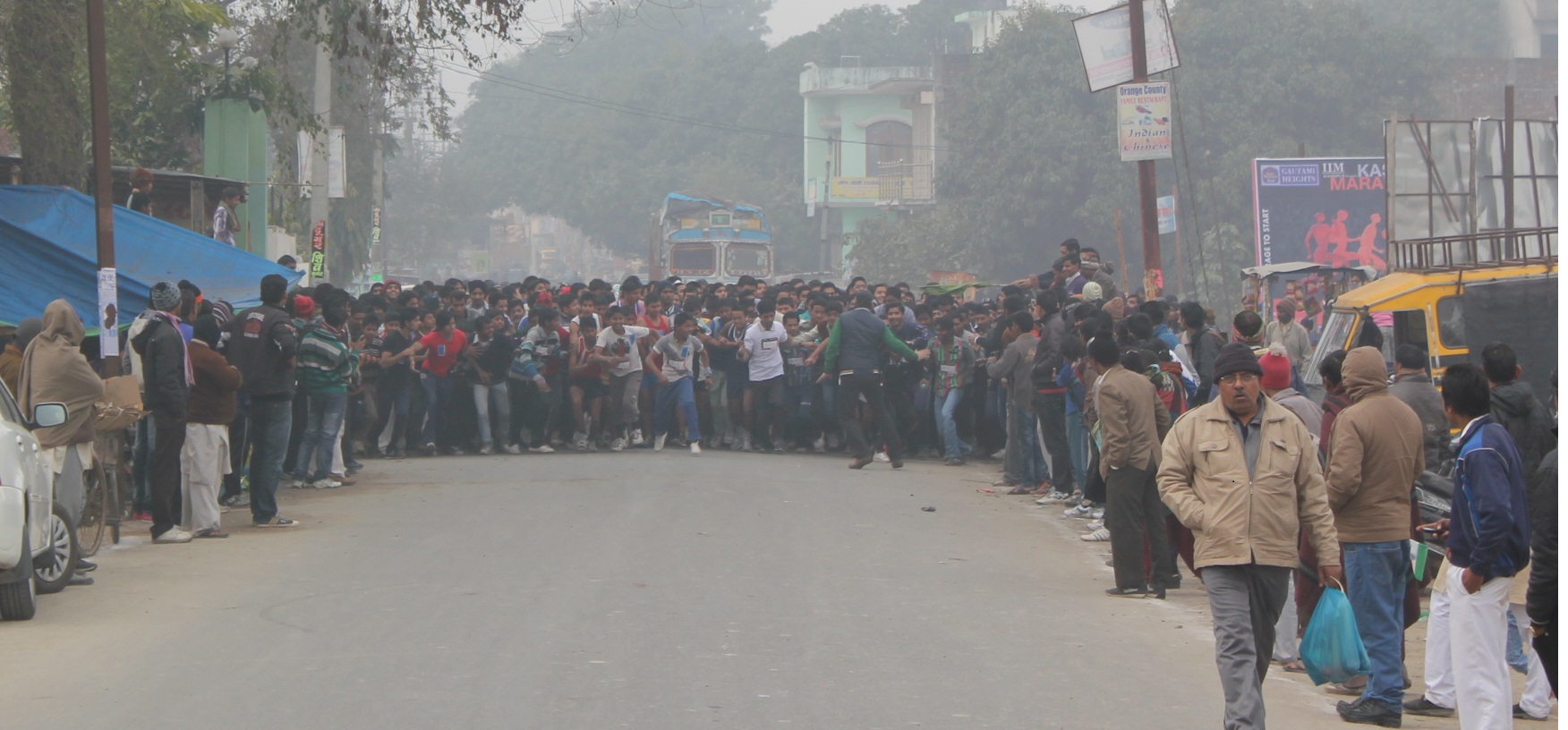 Dr. Gautam Sinha, Director of IIM Kashipur, inaugurated the event and expressed the need for spreading awareness for women safety, dignity and equality in the society. He also said that such initiatives could motivate youth to act for the welfare of the society. To promote the theme, Kashipur Marathon 2013 started with women's 6 km run followed by men's 6 km run. Both phases of the marathon witnessed a very strong competition with the presence of state and national level athletes. Refreshments were provided to the participants throughout the event. The winners of the race were felicitated with cash prize, medals and trophies by Harbhajan Singh Cheema, MLA, Kashipur and Dr. Gautam Sinha, Director – IIM Kashipur.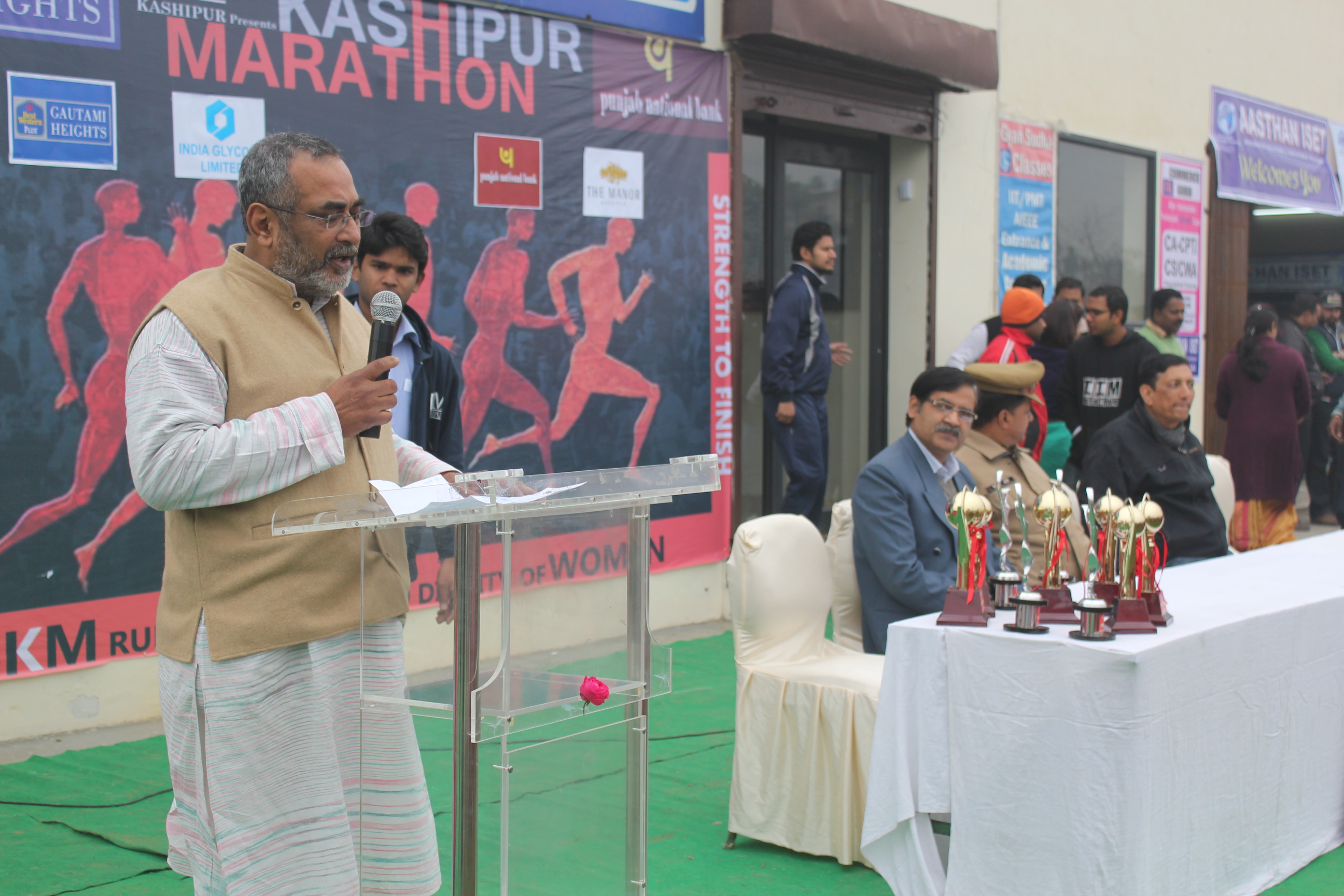 Kashipur Marathon 2013 was successfully organized with the due support of Kashipur Administration and Police Authorities. Among the main sponsors of the event were Gautami Heights, India Glycols Limited, Punjab National Bank and The Manor. Lion's club, Rotary club of Kashipur city, L.D.Bhatt Government hospital and Priya Mall were among the associate sponsors who provided amenities and Ambulance services for the event. Kashipur Marathon 2013 was the first marathon event to be organized in Kashipur at such a large scale.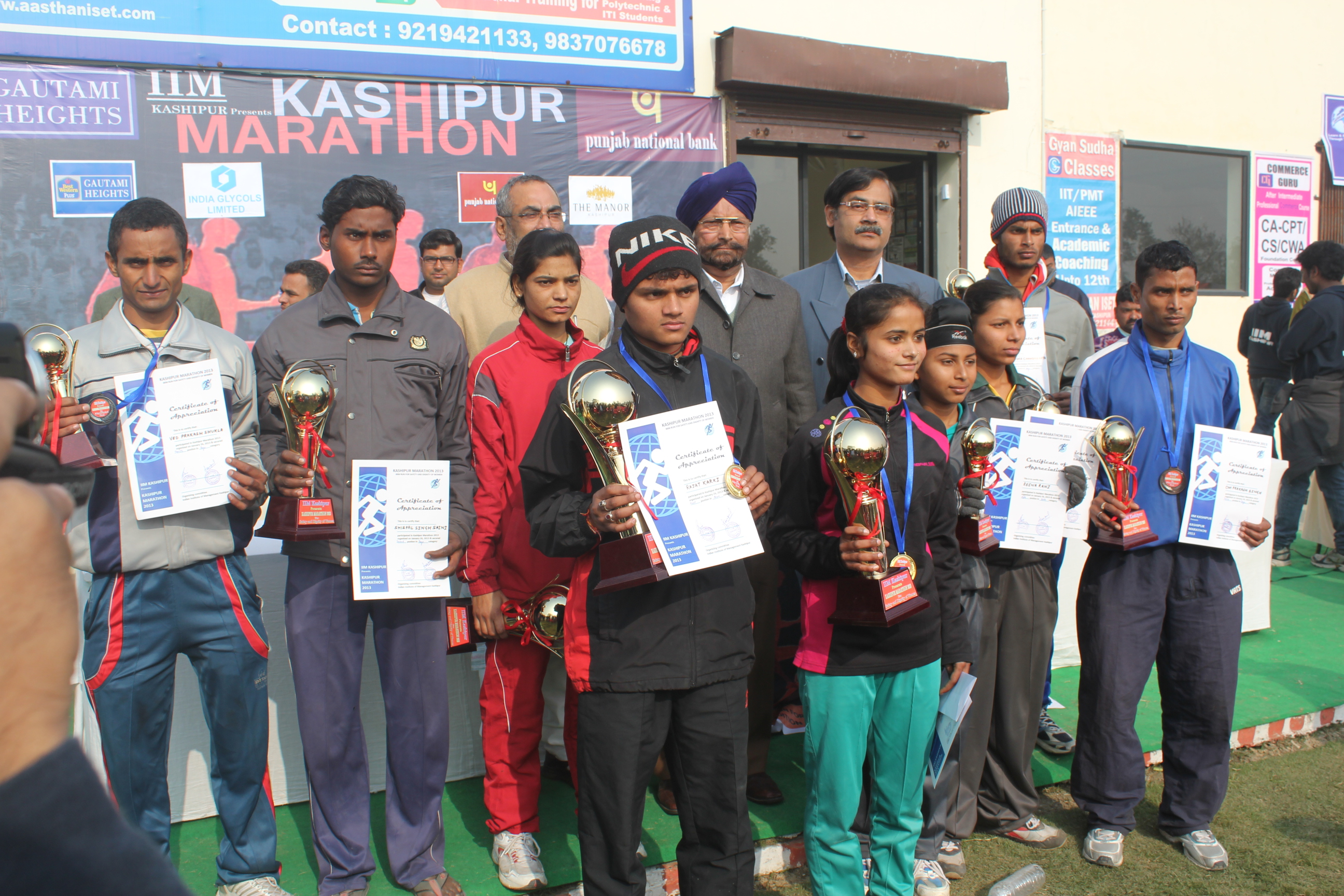 The student fraternity of IIM Kashipur came up with this unique idea to promote women safety and dignity with a Marathon which would attract huge crowd and thus would enable awareness about the theme on a mass level. The Marathon was organized as a part of IIM Kashipur Students' social responsibility initiatives – Parivartan, which intends to bring a change in the society by envisioning, acting and enabling a change by organizing events like blood donation camps, candle marches, social awareness roadshows, personality and career development sessions for school children.

.