IIM Raipur conducts its First Alumni Meet
| February 06,2013 03:17 pm IST
The First Alumni Meet of IIM Raipur took place on 4th Feb 2013 at the IIM Raipur campus. The pioneer batch was welcomed in a traditional manner with Tilak ceremony.

The Meet was conducted in two phases: Alumni Interaction with the Current Batches and an open forum discussion with Faculty and Students to discuss the layout of the interaction platform between Alumni and College.
The event started with a brief introduction of alumni followed by interaction of alumni with small groups of students. The alumni present for the event were from different domains and companies such as Pfizer, RBI, HT Media, Tata Motors, Berger Paints. The students had the opportunity to gain insights about the various sectors: Finance, Marketing, Supply chain, and Strategy.
While the 2nd year students were keen on knowing about the life in the corporate world and the integration of the skills learnt at the campus with the industry needs; the first year students cleared their doubts regarding the summer internships. Alumni shared experiences about their current job roles, summer internship and their campus life at IIM Raipur.
The next phase of the meet had an auspicious beginning by lighting of inaugural lamp by Prof. B.S.Sahay, Director, Indian Institute of Management Raipur. The alumni and audience were then apprised of IIM Raipur's major achievements and milestones of last year.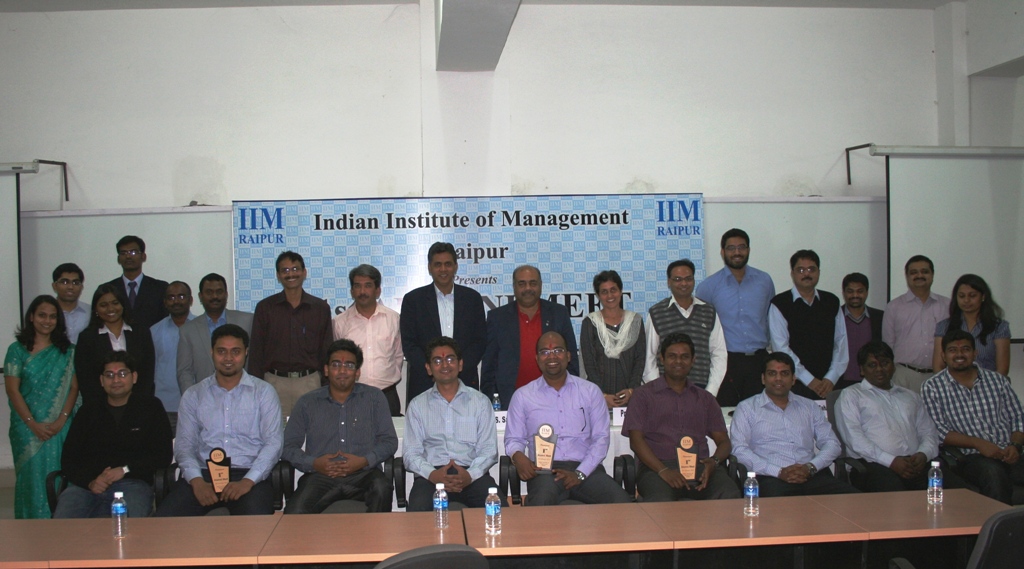 The Alumni committee of IIM Raipur took this platform to launch first look of Alumni website which was unveiled by Prof. B.S.Sahay followed by the launch of first Alumni Magazine – "Allumnati" containing the details of the developments that took place in the institute during last year. The website will not only assist Alumni to connect with their batchmates and the institute but will also provide opportunities for professional growth and social interaction.
A discussion then followed on process of development of a strong Alumni network and the role of Alumni in the process. A plethora of suggestions were put forward by the professors, alumni and students.
Before the closing of the event, each alumnus was presented a memento by Prof. B.S.Sahay as a memorabilia of the First IIM Raipur Alumni Meet.
.