IIM Shillong annual Golf Tournament Season 4 brings back corporates, B-Schools on battle ground
| October 10,2011 12:52 pm IST
After the resounding success of the previous three seasons, IIM Shillong is back with Season 4 of its annual Golf Tournament. The event brings corporates and B Schools on a common platform to battle it out on the greens.
The first golf tournament organized by any B school in India, this unparalleled concept is entirely a student driven initiative. Budding managers will draw the battle lines against corporate leaders in the beautiful and serene Shillong Golf club on 8th and 9th of October, 2011.

The IIM Shillong Golf Cup Season 4 began in style on Saturday, with more than 60 golfers playing at the picturesque Golf course at Shillong. The Golf Cup was inaugurated by Shri A.L. Hek, Minister IT GAD & Water Resources, Government of Meghalaya. He is also the President of 'Shillong Golfer's Association' and has a 'Single Handicap'. The tournament was teed off by Air Officer Commanding-in-Chief Air Marshal S. Varthaman, Lt. Gen. Rameswar Roy, Mr. Sudesh Kumar, Mr. A. L. Hek and Prof. Ashoke Dutta, Director of IIM Shillong.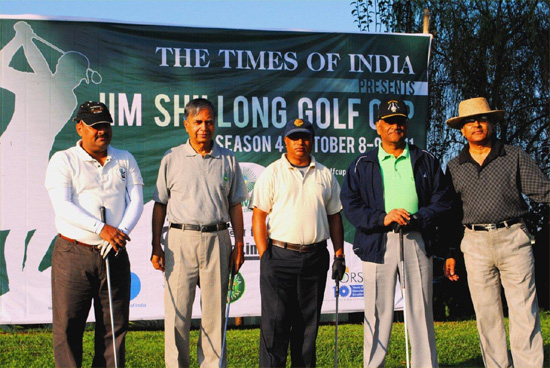 As an add-on to this endeavour, IIM Shillong also organises the 'Green Jacket', a Golf Workshop for B-school students, to help familiarise them with the intricacies of the game. In this workshop, the students get a comprehensive training and a first-hand learning experience of the game from professional golf trainers. The workshop also provides an opportunity to learn and compete, which embodies the ideal spirit and attitude for a budding manager to be successful in the corporate world – the real world. The Green Jacket was jointly conducted by the Chief Administrative Officer of IIM Shillong and Wing Commander Mr Verma.

Prior to this event, IIM Shillong had organised a case study competition in which teams from premier B-schools, took part. The winners of the case study qualified to participate in the 'Green Jacket'. In addition to the case study, IIM Shillong also conducted a sports quiz, '18th Hole' in which more than 150 teams from B-Schools across the country participated. The winners were the teams from NL Dalmia, IIM Indore, IIM Ranchi and IIM Shillong. The winners of the Golf quiz were also given an opportunity to participate in the 'Green Jacket'. Students from premier B-schools such as XLRI Jamshedpur, IIM Rohtak, SRCC Delhi, IIT Kharagpur, Welingkar, Bombay and IIM Shillong took part in the 'Green Jacket' workshop this year.

Additional support to the tournament was extended by HQ 101 area, Assam Rifles, Eastern Air Command and BSF. The title sponsor of the event is The 'Times of India' Group who cover the event exhaustively. OIL India, SBI, SM Autokrafts (Volkswagen Dealer, Guwahati), Mahindra Holidays and UB Group are the co-sponsors of this flagship event.
Concluded.
.