IIM Shillong director Prof AK Dutta confered with Visionary Leader Award
| October 07,2011 06:40 pm IST
The Director of IIM Shillong Prof. A K Dutta was conferred with the Asia's 'Visionary Leader Award' at the 'Asian Leadership Awards 2011', which took place at Taj Palace Hotel (Dubai).
The award recognizes the achievements of Prof Dutta as an innovative business leader and bears testament to his constant encouragement to other entrepreneurs and leaders. This award aims to recognise the achievements of the Asia's leading business and academic visionaries across all industry sectors and to honour their great contributions towards the region's economic and social development. Mr. Altaf Ahmed, a past pupil of Prof Dutta and current Vice President of Emirates NBD had received the award and citation on behalf of Prof Dutta.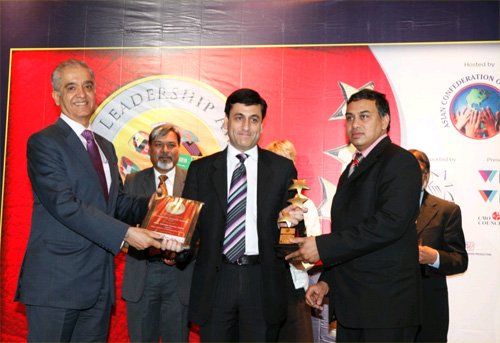 Mr. Altaf Ahmed, Vice President Emirates NBD receiving Asia's Visionary Leader Award on behalf of Prof Ashok K Dutta founder Director IIM Shillong from left

From spearheading the Centre for Development of NER (CEDNER) functioning under the aegis of IIM Shillong, to encouraging sports as an avenue for employment generation, and putting in place untried methods of administrative and academic functioning ensuring IIM Shillong's global presence within the immediate few years of operations, coupled with distinctive attachment for the region in which the country's seventh IIM is operating, Prof Dutta has led the way in unique style. CEDNER as it stands now is a much desired avenue for entrepreneurial and managerial enhancement courses, especially so for the talented youth of NER who otherwise would have to travel great distances to take such kinds of learning opportunities.

"To have had a founder Director such as Prof Dutta, is nothing short of a blessing...given the fact that there is always new learning to be had given his immense experience. As family members of IIM Shillong we are extremely proud of this achievement and recognition that Prof Dutta has received and we can only hope that he stays for another few years to continue solidifying the pillars of IIM S," echoed the student, administrative and academic community on the sidelines of this achievement.

Prof DP Agrawal, Chairman UPSC Chief Guest during the induction of 4th year PGP students in the month of July last had also observed, "Having seen what the Director of this Institute (IIM Shillong) has achieved in such a short time, I am sure nobody else would have been able to achieve."

After successfully leading the oldest business school in India, the Indian Institute for Social Welfare & Business Management, founded shortly after India's independence from Britain, Professor Dutta assumed the position of Founder Director of the seventh Indian Institute of Management (IIM) in Shillong, Meghalaya. India's IIMs and IITs are among the most academically selective in the world. Prof Dutta has worked for more than 40 years in Multinational Corporations, Indian Business Houses and Public Section Enterprises. He is one of the few eminent academics in the country who has served the academia and industry with exemplary distinction.

It is worth mentioning that the distinguished jury for constituting the award consisted of Mr Andrew Kelly, Chief Patron, CMO Asia; Mr Dave Porter, Global Chairman, World Brand Congress; Mr Jack Jones, Global Chairman, World HRD Congress; Mr Jonathan Peters, Founder, Stars of the Industry Group and other eminent personalities.
Concluded.
.