IIM Shillong takes up the initiative to become socially active and grow with the society
IIM Shillong standing tall on its mission to create future leaders focusing on developing processes to promote sustainable growth organized a leadership workshop for students from various academic institutes in Shillong. A group of students turned their attention towards nurturing the young students in Shillong in the right direction.
EcoBiz club of IIM Shillong along with Environmentalist Foundation of India (EFI) conducted a pioneer leadership workshop for the local students in Shillong belonging to different academic institutions in Shillong. The one day workshop supported by Lions Club of Shillong was mainly focused on bringing out environmental leaders in Shillong. The workshop was inaugurated by Dr. Amitabha De, Director of IIM Shillong, Mr. Arun Das, President of Lions Club and Mr. Arun Krishnamurthy, President of EFI.

Dr. Amitabha De highlighted the importance of this initiative and stressed upon how development should go hand in hand with conservation. He told the students that conservation should begin from each individual. The importance of self-enlightenment and initiative towards contribution to the environment was discussed.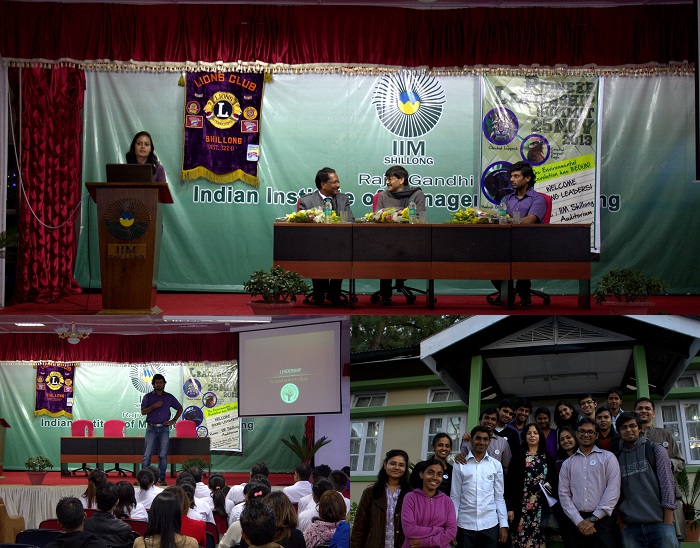 The workshop hosted a series of events to enhance leadership skills among the participants. Towards the end of the session Shillong chapter of EFI was launched. This chapter will work on projects related to environmental conservation in Shillong like lake restoration, solid waste management etc. The first program of this chapter would commence in January 2014.

The participants felt really motivated to be socially active and take positive steps to safeguard the environment for betterment of every individual. The contribution of ECoBiZ club faculty coordinator Professor Natalie West Kharkongar has made the workshop a huge success. IIM Shillong continues to deliver on its promise of developing processes for sustainable development and create a positive change in the society.
.