IIM Udaipur organizes Business Plan contest-Ideate 2.0
Continuing with its entrepreneurial endeavors, IIM Udaipur witnessed Business plan event with enthusiastic participation from future entrepreneurs..
Saksham- the entrepreneurship cell of IIMU, in association with TiE, conducted the first phase of its flagship event Ideate 2.0 on 31st Aug, 2013. Ideate 1.0 was organized on 16th Nov, 2012.

After the first phase, Ideate 2.0 will have two more phases at a later date. The winners of the contest will receive attractive cash prizes.

Ideate 2.0 received tremendous responses from the student community. There were 21 participants who presented their ideas. Out of these 21 ideas,10 best ideas sailed through to second phase.Each participant had 4 minutes to present the idea and 2 min for Q&A session. The audience judged the ideas on the basis of their clarity and feasibility. Some unique features of the event were Q&A from audience and willingnessof audience to join the idea.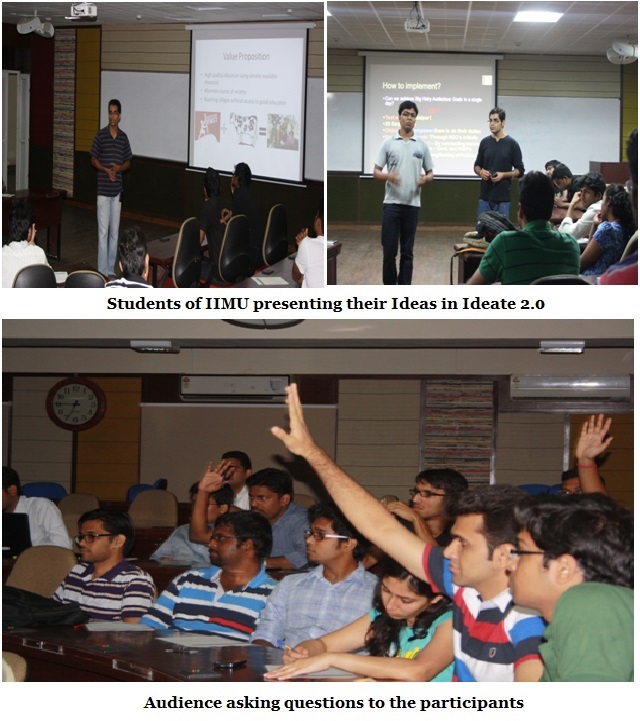 The students presented their business plans which were novel, creative and diverse in nature. Audience played a crucial role as it asked many insightful questions to the participants.The 2 hour event boosted the entrepreneurial aspirations of many and all were inspired by the innovative ideas.
.