"Is perpetual exponential growth possible?"; Mansoor Khan at IIM-R
The students at Indian Institute of Mangement, Rohtak (IIM-R) got an opportunity to interact with Mr. Mansoor Khan, who gave the future managers, a different perspective on the much sought after 'economic growth'.
Such lectures are a part of the curriculum at IIM-R, as the institute does not follow the conventional teaching pedagogy but believes in an overall growth of a student by giving them a lot of exposure to innovative ideas that are coming up in the fast changing business world.

The theme of the session was 'The Third Curve'. Mr. Khan, enriched the students with his novel ideas on the energy consumption pattern of the growth oriented economies across the world and the lesser seen sinister side of exponential growth figures. He said, we need to realize that the energy resources on our planet are limited. Our development is largely dependent on the availability of fossil fuel and the prospects of progress are growing murkier by the day, as we are injudiciously exploiting our oil reserves. The concept of making money from money is not going to last long if we do not have resources to back it up. The scenario of 'Peak Oil' should be taken seriously so as to formulate sustainable policies for futuristic growth.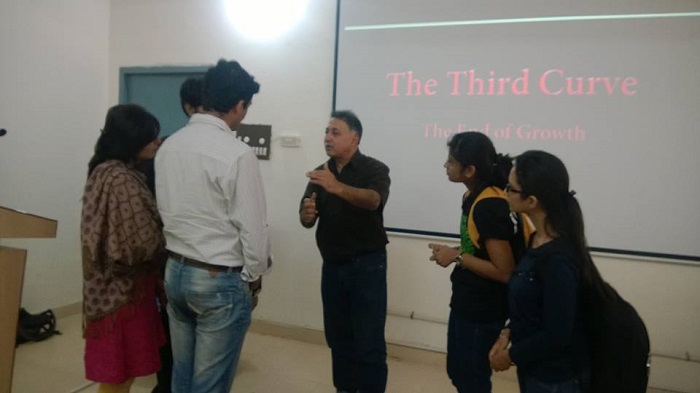 Mr. Mansoor Khan,son of film maker Nasir Hussain, made his directorial debut with Qayamat Se Qayamat Tak (1988) which launched the career of many, now big names in bollywood, including Joohi Chawla and his cousin Aamir Khan. He also directed cult movies like 'Jo Jeeta Wohi Sikander'. He quit bollywood and has ever since, dedicated his life working for the betterment of the society at large. His book titled 'The Third Curve; End of growth as we know it' was launched on 11th October 2013, by Aamir Khan.
.