MahaMandi concluded with twin ideals of 'Corporate Social Responsibility' and 'Learning through Doing'
National Institute of Industrial Engineering (NITIE) organized the latest edition of its iconic event, MahaMandi 2013 on October 12 here in Mumbai. Around 1000 students got down to the streets of Mumbai to participate in this mega event which can be counted among the largest single day educational events in the country.
The event was special also because NITIE is celebrating its Golden Jubilee this year.

Led by the students of NITIE and with participation from other premier B-schools in Mumbai (NMIMS, SPJIMS), the event saw the participants throng the streets of Mumbai selling educational toys made by the NGO Navnirmiti for raising funds to support economically underprivileged children, and in the process, learning the basics of management outside their classrooms, in a unique action learning pedagogy.

From a humble beginning in 2004, when the students of NITIE first took to the streets for Mandi, the event has grown in reputation and stature over the years covering most of the premier B-Schools in Mumbai and targeting a wider reach. The revenue generated over the course of the event is handed over to the NGO, which aids its noble cause of providing better education to the economically underprivileged children. Thus MahaMandi is a unique event, epitomizing the twin ideals of 'Corporate Social Responsibility' and 'Learning through Doing'.

Dr. T. Prasad, a senior faculty at NITIE and the brain behind the event, thrives on the idea that any learning is incomplete until experienced by self. It is also an ideal platform for the otherwise classroom groomed future managers to experiment the concepts of their subjects like marketing and consumer behaviour through live application and bridge the gap between theory and reality.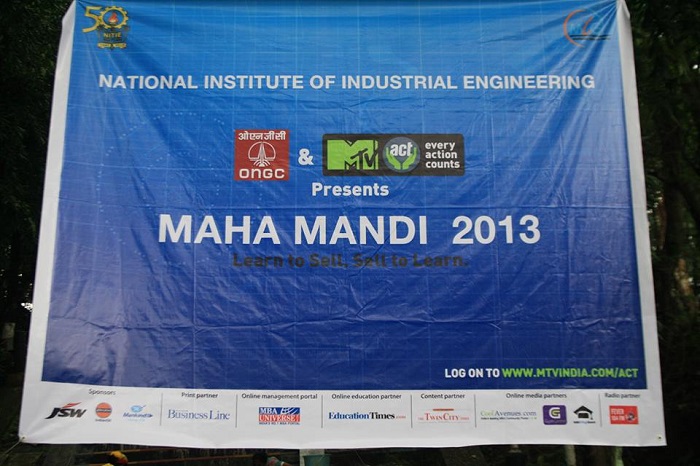 The event this year was powered by MTV ACT and sponsored by JSW, Indian Oil, ONGC, Fever 104 FM and The Hindu Business Line. Dr Rakesh Sinha (COO, Godrej Consumer Pvt Ltd.), Gaelyn Mendonca (Indian film actress, model and MTV India VJ) and Mr. Sumeet Doshi (Head of Marketing & Alliances - India for Kronos.) joined the students at the NITIE campus to flag off the event. The students thereafter moved on to their chosen destinations with the products. The event covered the whole of Mumbai, from Colaba to Thane. The toys on offer were 'Tangram', 'Jodo', 'Number Balance'.

The city was spotted with the students donning the unmistakable T-Shirts pitching to the customers with models they made with the toys. The students made their sales pitch by emphasizing on the educational value of these toys and how they could effectively complement a child's learning in the classrooms. The event was a fun filled learning experience for the students; it helped them learn some invaluable lessons on marketing and selling a product.

With Mandi growing from strength to strength and beginning to spread its wings of learning over the entire country, the aim is to produce good quality managers with a philanthropic outlook year after year.
For more pics of event click below