MICAns gets a glimpse of Pop-Culture and Democracies abroad
Last weekend witnessed MICA playing host to international scholars and artists from diversely interesting fields. These scholarly personalities had come together to present sessions on 'Culture and Communication', at MICA.
Under the "Scholar in Residence" program at MICA, Matthew Pateman, Professor of Contemporary Popular Aesthetics, Head of Humanities Dept., Sheffield Hallam University, UK, along with Harmony Siganporia, Associate Faculty at MICA, presented a session on semiotics. The session was on 'how culture can be perceived as a series of centres of power and the cultural and territorial peripheries that they seemingly affect; and the power structures defining these two.

Commenting on the session, Pateman noted "The interaction with the students and the whole experience of being on MICA campus has been quite rewarding. Students who aren't quite used to thinking about popular culture or cultural senses and peripheries, have given an appreciable thought and openness to the discussion of the same- which is difficult and yet, an important aspect." He further added, "The internationalization of higher education is an extremely progressive step and should be done more often by institutes in India and abroad." Pateman also held a research colloquium on exploring political possibilities and limitations within Popular culture.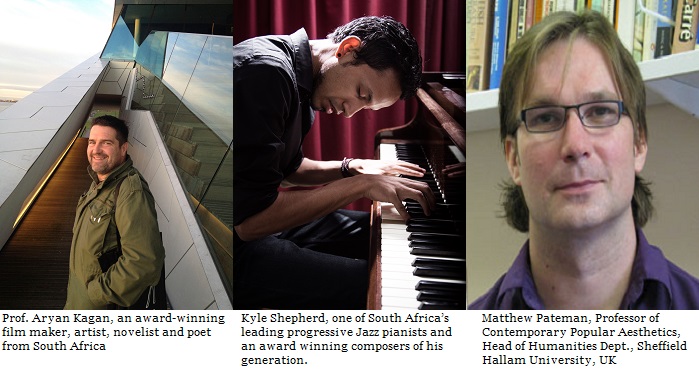 Subsequently Kyle Shepherd and Aryan Kaganof held their session on the conflicts within the South African democracy under the "Scholar in Residence" program at MICA. Aryan Kaganof is an award-winning film maker and also an artists, novelists and poet from South Africa, noted for the world's first feature film made on a mobile phone camera, SMS SUGAR MAN" [2005]. Kyle Shepherd is one of the South Africa's leading and much awarded progressive Jazz pianists and composers of his generation, who has a well-established record of celebrated solo, trio and quartet performances in South Africa, Japan, China and many European countries. They had screened the film "Exhibition of Vandalism", a documentary film on the vandalism of musical instruments and technical setups at the Zimology Institute, set up by Zim Ngqwana, a music composer. Ngqwana and Shepherd partake in the film, by performing on the broken instruments, as an act of reclaiming their passion for music.

This was followed by an interactive discussion on South Africa's political scenario pre-1994 and post it, the lack of difference between the two periods and as to how political freedom has enabled the possibility of creating quality projects on a low-budget via advanced technology. Commenting on the student interaction, Kaganof exclaimed "I am delighted at the high level of questions the MICAns had in their minds- it is challenging and difficult to answer- just the way it should be!"

Shepherd observed, "Despite the similar cultural and economic contexts between the two nations and given that this film was more of a personal and devastating experience for me, it was quite stimulating for me to see the students empathize, rationalize and respond to such a personal experience!"

On the initiative as a whole, Harmony Siganporia quipped, "Monotonous interactions can be quite limiting to exploring cultural communication as a subject. The rich depth of insight and exposure the students enjoyed via this interaction, is in itself an exhilarating experience!" Commenting on the same, Dr. Nagesh Rao, President and Director at MICA, said, "The most exciting discoveries happen at the intersection of different fields. The presence of Mr. Pateman, Mr. Koganof and Mr. Shepherd on the campus itself, has created space for conversations concerning such intersections. Hence, the vibrant energy on campus amongst the students, faculty and staff! MICA will continue to bring many such luminaries from diverse backgrounds to interact with its students."
Concluded.
.