NMAT 2011 orientation video and demo to assist candidates with test familiarization
| October 05,2010 04:17 pm IST
The Narsee Monjee Management Admission Test (NMAT) 2011 reiterated its position as the most candidate friendly Computer Based Test (CBT) in the country with the launch of an engaging orientation video and test demo. Designed to familiarize NMAT applicants with the test process including the test interface functionality, the video and the demo are testimony to NMAT's commitment to ensuring the best performance from all candidates.
Speaking on the launch of the orientation video and test demo, Dr. Anupam Rastogi, Chairman Admissions 2011 - School of Business Management, NMIMS, "We encourage all candidates to thoroughly familiarize themselves with the test process and the test interface as part of their strategy. In a competitive test like NMAT it may give you that much needed advantage."
The NMAT 2011 orientation video handholds the candidates from the test registration process to the stage when the test is delivered. The video which is a mock adaptation of a fictitious character called 'RIA', who is set to take NMAT 2011, is a step by step guide of the do's and dont's. The video demonstrates to candidates test registration, scheduling, confirmation and delivery processes.
In addition, NMAT 2011 Test Demo brings to test takers an interactive video tutorial that provides them an opportunity to familiarize themselves with the look and feel, functionality, navigation and review features of the test interface. This is to ensure that candidates are more comfortable and efficient on their testing day. The tutorial provides test takers with the opportunity of answering questions, changing answers and marking questions for review.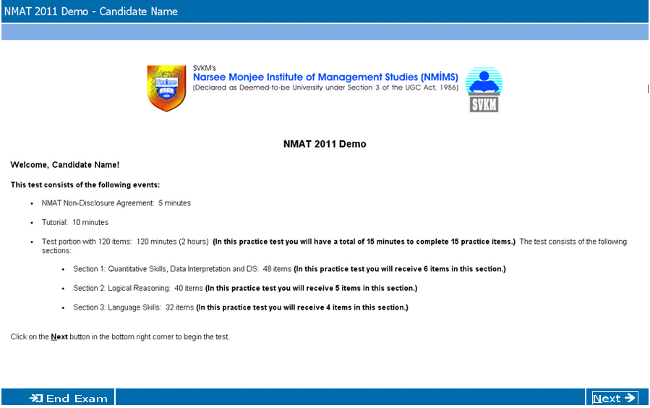 The NMAT 2011 Test Demo is a crisp module that takes the test taker through different events as in a real time test viz, Non disclosure agreement, tutorial and the test portion. The demo consists of 15 indicative questions as part of the practice test. The indicative test questions are spread over and divided into 3 sections as in the case of actual test (Quantitative Skills and Data Interpretation; Logical Reasoning and Language Skills). The demo runs in a timed mode and provides the test taker an option to flag questions for review making the exercise a near simulation experience for the candidate.
In an actual test situation the NMAT presents a candidate with 120 questions that need to be answered in 120 minutes. Also, the functionalities displayed in this video are representative and may not include all the functionalities of the actual NMAT computer based test.
With NMAT 2011 the bar on how computer based tests (CBT's) are conducted already stands raised. Candidates taking the test this year shall enjoy the process which has been bettered from last year, which was the inaugural year.
For more information candidates can visit www.pearsonvueindia.com/nmat
Concluded.
.