Padmavibhushan Dr. R.A. Mashelkar gave away GYTI awards at IIM-Ahd hosted by Techpedia at Sristi
India's top scientist and Chairman of National Innovation Foundation, Dr R A Mashelkar, said on Saturday he was amazed at the cutting edge research quality of the prized innovations put up at the Techpedia Award function at Ravi J. Mathai Center at IIM Ahmedabad on Saturday.
The top scientist particularly mentioned the technological innovations for near and remote diagnostics, for detecting pneumonia in infants, for identifying malignant tumor, for the safety and security for women, and for preventing stampedes as highlights of the innovations. In fact, he would be showcasing those innovations in his visits abroad to represent the high quality in which Indian students innovate.

In all 13 awards and 27 letters of appreciation were given away to the young scientists and engineers who belonged to the premiere science, engineering and technology institutions of the country, including IITs, the IISC Bangalore, RV Engineering College, Bangalore, and Kongu and Eswari engineering colleges in Tamil Nadu.

Earlier, welcoming the chief guest, Prof Anil Gupta, Executive Vice-Chairman of NIF and founder of Honey Bee Network, noted the auspicious nature of the ceremony as it was being held on the eve of Dr. Mashelkar's receiving the Padma Vibhushan award.

Prof. Gupta announced that Germany had begun taking cognizance of the innovations in India and the European country would also get to know about Techpedia innovations real time.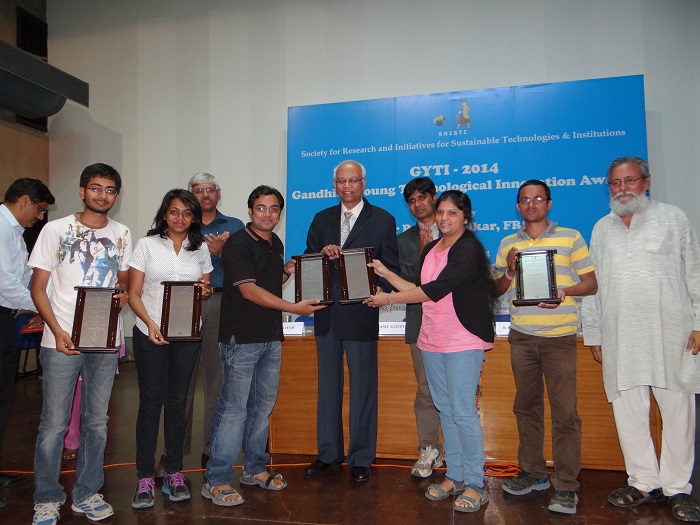 This year as many as 1400 nominations were received online and offline from all over the country for consideration under the Techpedia awards. There were efforts to bring in more mentors and more investors for reaching the innovations to users and market this year. In fact, an effort was made to create an innovator-investor platform.

This year's Gandhian national awards for innovative student/faculty projects are in engineering, pharmacy, science and applied technologies. The awards come under three categories:

1. More from Less for Many (MLM) Award
2. SRISTI Socially Relevant Technological Innovation Award
3. Technological Edge / Strategic Innovation Award

The nominations were received from 313 Technology and Scientific Institutions from 24 States of the country. These entries were clustered in 54 Technology Fields. The Nominations were considered for the competition and after careful review by 150 Jury members from 60 Universities and MNC R&D Labs across India and Abroad, 40 entries were selected for recognition. The awardees are as follows.

More from Less for Many (MLM) Awards
1. Parichaya - A Low-Cost Medical Device to Increase Adherence among Tuberculosis Patients in Rural Assam- Himanshu Seth
2. Development of a Fuel Efficient Cookstove through a Participatory Bottom-Up Approach- Vijay Hanmant Honkalaskar
Technological Edge / Strategic Innovation Awards
1. Injectable Silk Fibroin Hydrogel for Tissue Engineering and Drug Delivery- Surojeet Das
2. Highly Stable Metallic Nanoparticle-Semiconductor Heterostructures via Click Chemistry for Photoelectro/Photocatalytic Applications- Arun Prakash Upadhyay
3. Biomimicked Polymer Surfaces Exhibiting Superhydrophobic and Anti-reflective Properties- SrinadhMattaparthi
4. Development and Pilot Testing of Nano-sized TiO2 based Photocatalytic Oxidation Technology for Controlling VOCs- IndramaniDhada
5. Microfluidic Immunosensor- RamchanderChepyala
6. Paper and Pencil Microfluidic Device for Point of care Diagnostics- Ranabir Dey
7. Performance Enhancement of Microthruster using Nano-engineered MEMS Structure for Long Term Space Mission- PijusKundu

SRISTI Socially Relevant Technological Innovation Awards
1. A Low Cost Cardiovascular Diagnostic Instrument for Rural Healthcare- SushanthPoojary
2. Low-cost Diagnosis of Pneumonia- AbhishekKhanolkar
3. Laser Light Based Fully Computerized Automated Breast Cancer and Muscle Screening System Development- Samir Kumar Biswas
4. Development and Evaluation of Women Friendly Vaginal In situ Hydrogel for Sperm Immobilisation. - ParitaMoradiya

Appreciation (27)
Category: More from Less for Many
1. Touchpad for Malignant Tumor (epithelial) Detection and Imaging- SritamParashar Rout
2.Cost Effective Vegetable Chiller for Rural Small Farmers- Vishnu Padmanaban
3. Development of Microbial Fuel Cells with Improved Performance- JayeshManoharSonawane
4. A Transceiver for Satellite based Communication during Emergency using TV White Spaces- RajanKapoor
5. Adsorptive Removal of Phenolic Compounds using Cellulose Acetate Phthalate - Alumina Nanoparticle Mixed Matrix Membrane- Raka Mukherjee

Category: Technological Edge / Strategic Innovation
1. Inhalable Multiparticulate Carrier Systems for Sustained and Targeted Delivery of Isoniazid- Sanjay Tiwari
2. Concept of BBDP and its Application in Alzheimer Amyloid Disruption- Nadimpally Krishna Chaitanya
3. Fabrication of Organic Thin Film Transistor Using Single Drops of Organic or Hybrid Insulator, Conductor and Semiconductor Materials- GundaManideep
4. Paper-Pencil Based Self-Pumping and Self-Breathing Fuel Cell- Ravi Kumar Arun
5. Ultra-High Actuation in a Carbon Nanotube Actuator- Prarthana V.D.
6. Amsler Grid Test- Jagjeet Singh
7. 3D model generation from 2D X-Ray images- Vikas DhruwdasKarade
8. Universal Multiple Angle Raman Spectroscopy: A New Tool to Explore Molecular Structure of Materials Hidden in Depth- SanchitaSil
9. Fabrication of Stable Liquid Crystal Based Biosensor- Arun Prakash Upadhyay
10. Macrophage-Specific Targeting of Mannose-Functionalized Biodegradable Polymeric Nanoparticles of Some Anti-Leishmanial Drugs- Development, Optimization and Efficacy Evaluation- Pramila Chaubey

.