President Pratibha Devisingh Patil inaugrates Contributor Development Lab at WeSchool
| March 14,2012 02:13 pm IST
At a glittering function today evening, the Contributor Development Lab (CDL) of Prin. L N Welingkar Institute of Management Development & Research, popularly known as We School, was inaugurated at the hands of the honourable President of India, Smt Pratibha Devisingh Patil at the Institutes premises.
The CDL is a unique pioneering platform created by We School, to recognize, create and nurture its students as contributors to society. It aims to bring about self-awakening within its students so that they embark on a life-long journey of contributions. The President also inaugurated the dmagics- Design for Management and Growth in Corporations and Society Exhibition - set up by We School to showcase socially beneficial innovative business concepts developed by its students.
Stressing on the need for development of vocational and entrepreneurial skills for creating large scale self-employment opportunities, Honourable President Smt. Pratibha Devisingh Patil commended the contributions of WE School. Converting thoughts into action by offering practical innovative and technology-driven programmes is perhaps an indication of the approach required in our country, she said.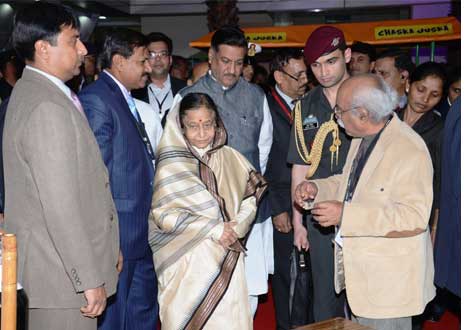 Mentioning a quote of Greek philosopher Socrates, President Patil went beyond skill development and said, Education is as much about learning to deal with life, as it is about character building. Hence, educational institutions have a responsibility to nurture the future generation with knowledge, culture and values that will help them achieve their full potential and be responsible citizens.
Explaining the idea behind the CDL and dmagics exhibition, Prof. Dr Uday Salunkhe, Group Director, Prin. L. N. Welingkar Institute of Management Development & Research (We School) said: Time has come to go beyond giving degrees to nurturing - not just manager but a citizen manager of India; in fact, a step beyond, nurturing a Global Citizen Manager. There is a growing trust deficit in society coupled with heightened global economic uncertainty. This will require nurturing people who have the urge to make a difference; whose contributions are not restricted by one's designation in an organization. The Contributor Development Lab (CDL) and dmagics exhibition are steps in this direction.
At the Contributor Development Lab (CDL) at We School, students are encouraged to create business enterprises that serve a social purpose. This is based on the realization that there is an urgent need today for redesigning management education to be responsive to the needs of the society at large, via the business enterprises route. Along with academic excellence, management students here are mentored through practical insights, and encouraged to have adaptive flexibility and social responsibility.
The dmagics exhibition showcases the innovative, workable design solutions devised by We School students to transform goods and services to better address the market needs. The exhibition of projects done with the design thinking philosophy would portray an element of the magic of design thinking in enterprises. The management students of We School have used the process of design thinking to develop innovative business concepts, new business strategies, products and services in different industry sectors that would have an impact on the society and growth in the industry.
Concluded.
.