Rashmi Bansal enriches SPJIMR Students with her experiences of becoming an Entrepreneur
| August 07,2012 12:02 pm IST
Rashmi Bansal, the author of Stay Hungry Stay Foolish, Connect the Dots and other such bestselling books on entrepreneurship, enriched the PGDM participants by sharing her real life experience in a guest lecture at SP Jain Institute of Management & Research, Mumbai. Being a young entrepreneur herself, she was able to connect with the audience and inspire them to look at entrepreneurship as an option.

Recalling her journey that started at IIM Ahmedabad, she spoke about her transformation from being a consultant to an entrepreneur and a professional writer. Inspiring the young audience she said There has to be a desire, a force in you that makes you do better every day. She urged the aspiring managers bitten by the entrepreneurial bug to start their ventures while at the B-school, much like their counterparts in premier B-schools in US. She concluded by saying have an ownership for what you do by just being the best that you can be.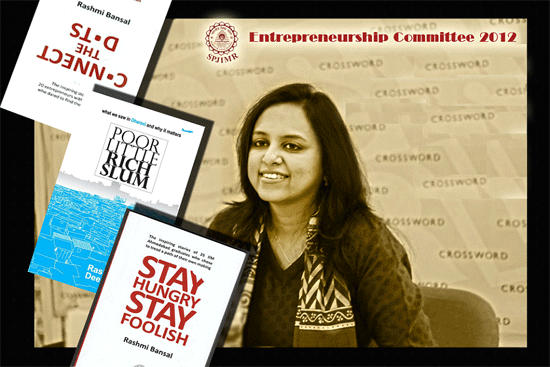 The event also gave the students of SPJIMR a chance to preview her latest book Poor Little Rich Slum which she has co-authored with Deepak Gandhi. A video portraying the nine months of extensive research and surveys done in the slums of Dharavi gave the students a panoramic view of life in the slums of Dharavi, one of the largest slums in Asia, located in the suburbs of Mumbai. The book talks about its peoples struggle for basic survival which turned it into the heart of small scale enterprise in Mumbai, incubation centre in itself with a contribution of around Rs 700 million to the Indian economy.

The guest lecture was organised by the Entrepreneurship Committee, 2012 which is an integral part of ADMAP (Assessment and Development of managerial and Administrative Potential) Programme at SPJIMR. The committee helps foster a culture of innovation and entrepreneurship in the campus by hosting a plethora of stimulating events such as business plan workshops and seed camps, and experimenting with business ventures involving the batch. The ADMAP Programme is like an experiential laboratory where students get to work in such committees with their peer group. This gives them a dry run of the situation they will find when they will go to any organization specifically about people management.
.