School of Inspired Leadership, Gurgaon organizes third annual convocation
| May 23,2012 03:24 pm IST
The School of Inspired Leadership (SOIL), a management school co-created by 32 leading companies of the country, hosted its 3rd annual convocation. On an eventful day that saw the presence of eminent personalities, 116 students were felicitated for successful completion of SOILs Business Leadership Program (BLP) and HR leadership Program (HRLP).
Guests of Honour included Dr. S.Y. Quraishi, Chief Election Commissioner of India, Mr. Oliver Blum, MD, Schneider Electric India and His Holiness, Swami Nikhilanandaji, Acharya Chinmaya Mission. Mr. K.K. Nohria, Former Chairman, Crompton Greaves and Chairman of the SOIL Board and Anil Sachdev, Founder and CEO, SOIL welcomed the guests to the convocation organized at the Chinmaya Mission, New Delhi.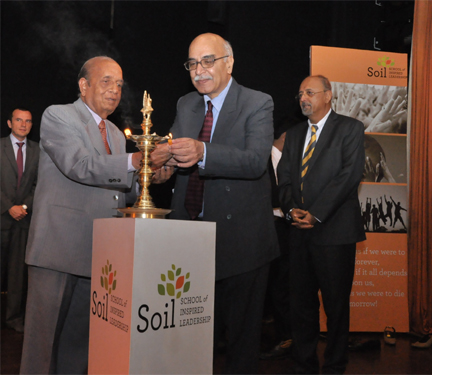 Delivering the welcome address, Mr. Anil Sachdev said I extend my best wishes to all students who are set to embark upon an exciting journey in the professional world. At SOIL, the essence of ethics is deeply inculcated in our students this will hold them in good stead when they take on their new role in their careers.
Gracing the occasion, Mr. S.Y. Quraishi said, I feel truly inspired while I participate in the convocation ceremony of SOIL today and congratulate the future managers for their stellar academic performance. The participation of socially responsible youth will help our nation transform into a truly inclusive society.
During the course of the day, students were conferred with special awards of excellence for displaying exceptional all-round abilities. The ceremony concluded with the recital of the national anthem.
Concluded.
.