TEDxIIMRanchi-18 STORIES, 18 FIELDS, 18 MINUTES
TED is a non-profit devoted to "Ideas Worth Spreading". It started out in 1984 as a conference bringing together people from three worlds: Technology, Entertainment, Design.
TED is a platform to bring together the world's most fascinating thinkers and doers, who are challenged to give the talk of their lives in 18 minutes or less. Ideas have endurance without death and spreading ideas is TED's mission.

In the spirit of ideas worth spreading, TED has created a program called TEDx. TEDx is a program of local, self-organized events that bring people together to share a TED-like experience. The event hosted by IIM Ranchi is called TEDx IIMRanchi, where x means that TEDx is an independently organized TED event. IIM Ranchi is the first B-school in India to get a level 2 licence which grants it to host more than 100 attendees. IIM Ranchi has been conducting TEDxIIMRanchi successfully for the last two years and is proud to present the third edition which will be hosting a number of national and international speakers who have realized their vision in a variety of fields including policy making, social activism, entrepreneurship, media, arts, public administration and other such diverse disciplines.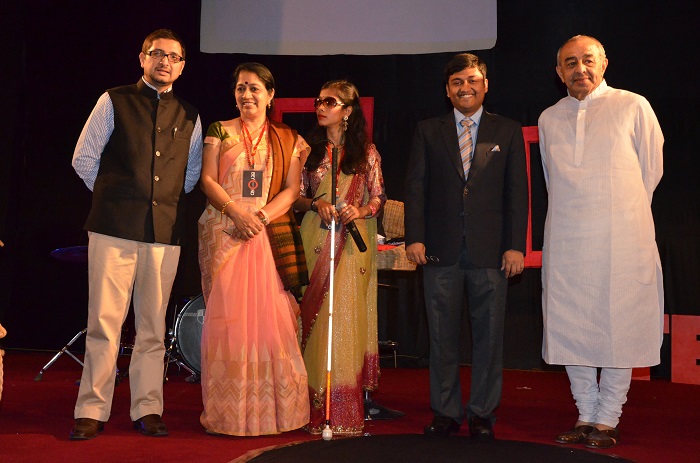 This year, with the theme "Beyond Conformity", TEDxIIMRanchi invites driven individuals and independent thinkers, who have believed in themselves and faced all odds to realize their vision in a variety of fields.

We are set in our ways, bound by our perspectives and stuck in our thinking. To enlighten and inspire the audience, the 3rd edition of TEDxIIMRanchi has invited speakers spanning a plethora of fields. Eminent dignitaries like Mrs. Brinda Karat –Member of Rajyasabha and a prominent campaigner for gender issues, Mr. Mihir Shah- the renowned Indian Economist, policy maker and social worker and the youngest ever member of the Planning Commission of India, Mr P.P Sharma- ex Chief Secretary of Jharkhand, Mr. Varad Pande- Officer on Special Duty (OSD) to India's Minister for Rural Development; will be gracing the event. Social activists like Dr. Medha Samant, Mr. Harsh Mander and Swami Sarvapriyananda- the dynamic young monk of the Ramakrishna Math will enlighten the audience on social activism and how they didn't tread the tried and tested path but paved their own road instead. To ignite the minds of young IIM Ranchi students and the audience alike, young entrepreneurs viz. Mr. Myshkin Ingawale and Mr. Anand Damani will share their ideas and inspirations. From the arts domain Mrs. Vijayalakshmi Subramaniam- noted Carnatic music vocalist; non-conventional artists like Mr. Vineeth Vincent- beatboxer, musician, emcee and performing artist, Shivani Sharma Dasmahapatra- Independent Media Professional & Photographer will be sharing their stories and visions. TEDxIIMRanchi is also hosting international independent thinkers like Mrs. Emma Dawson Varughese who is an independent scholar and writer and Ms. Ani Choying Drolma - a Buddhist nun and musician thereby becoming a melting pot for ideas, transcending the boundaries of culture and countries. Additionally, Mr. Tathagat Tulsi- A child prodigy working as an Assistant Professor on contract at IIT Bombay at the age of 26, Mr Diwakar Shukla from Ogilvy & Mather will be gracing the event. The Chief Technical Officer, Jharkhand police, Mr. Vineet Kumar will be addressing the pressing need for women safety and will enlighten the audience on how technology can be used to combat crimes for women and children. The event also comprises of a band performance by Swatharma.


Commenting on the event, Mr Praneeth Pancheti, Member of the TEDxIIMRanchi Team shared,"We have extended the invitation to Businessmen, NGOs, educationists, policy makers, civil servants, activists, media, Bank officials, schools, colleges, hospitals, real estate officials etc and we strive to make the third edition of TEDxIIMRanchi a resounding success and an event which Jharkhand has never witnessed before!" The event altogether is an excellent initiative by IIM Ranchi towards spreading new ideas and accomplishing identified goals.
Concluded.
.