WeSchool hosts a panel discussion on 'Gen Y' with Yashraj films and Ormax Media
Prin. L N Welingkar Institute of Management Development and Research, (WeSchool) hosted a panel discussion on the topic, 'Shuddh Desi India Ki Soch' with Yashraj films and Ormax Media at its campus on August 21, 2013.
The basis of the discussion was a research conducted by Ormax Media for making of the forthcoming movie 'Shuddh Desi Romance'.

Celebrated Bollywood personalities like Jaideep Sahni, Writer- Shudh Desi Romance (writer of films like Chak De India, Bunty aur Babli and lyricist) and Raghu Ram (maker of the famous reality show Roadies) enthralled the audience with an enriching discussion moderated by Shailesh Kapoor, Head- Ormax Media. The cast of the movie- Parineeti Chopra, Sushant Singh Rajput and Vaani Kapoor also addressed various questions raised by the curious minds of WeSchool students.

Yashraj films in association with Ormax Media, conducted a survey amongst 5000 youth across the country to comprehend the views of GenY about the various issues like dating, live-in relationships, marriage, career choices; the parental and societal pressures around it and its impact on their lives. The panellists and WeSchool students discussed the findings of the research to get a glimpse into the enigmatic lives of youth today, their choices and their actions.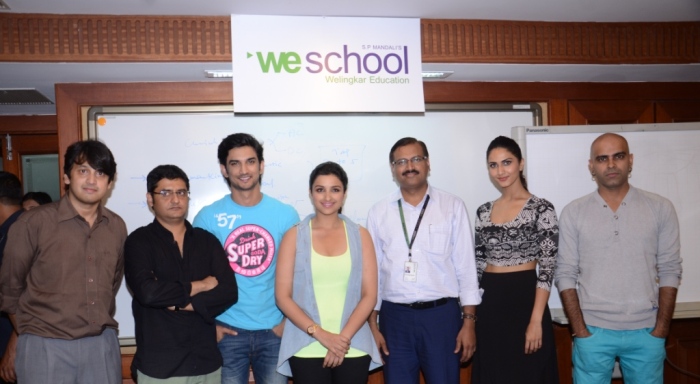 L-R: Aditya Bhat, Head, Media & Entertainment, WeSchool, Jaideep Sahni, Sushant Singh Rajput, Parineeti Chopra, Prof. Dr. Uday Salunkhe, Vaani Kapoor and Raghu Ram

Jaideep Sahni, said at the discussion, "We are in a traditional society and young people everywhere are influenced by modernity and latest trends. This leads to a natural friction between tradition and modernity. It is normal for parents to get worried in such situation. However, it is odd to lock up youngsters out of fear of safety or societal norms and at the same time it is odd not to benefit from the parent's experience. It is all about management."

Prof. Dr Uday Salunkhe, Group Director, WeSchool commented, "Today, education system does not match the rapidly changing attitude of Gen Y. We are not very receptive to the aspirations of the younger generation. This has to change and education institutes have to align their culture and system to the unconventional objectives of today's youth."

Shailesh Kapoor said, "The main aim behind the research was to find out about what young and older generations in India think about relationships and their difference in opinions."

Raghu Ram also shared his opinion on the current state of relationships in India overpowered by traditions and the evolving perception of Indian youth.

The cast of the movie also actively participated in the discussion by sharing their views on various Gen-Y related topics like dating, live-in relationships and marriage, from both the youngsters' and parents ' perspectives.
.