XIMB celebrates Foundation Day
| September 06,2010 11:38 am IST
Xavier Institute of Management, Bhubaneswar celebrated its Foundation Day on 5th September, 2010. The Institute owes its origin to a social contract between The Jesuit Society and The Government of Odisha.
Since its inception on 12th October 1987, the Institute has been going from strength to strength. For the institute, it is a moment of reflection on how far it has come, and also of looking ahead to how far it has to go yet. Mr. J. J. Irani delivered the first ever Foundation Day Lecture in 2003. Since then, this tradition has been carried on by business leaders and thinkers like Lalita Gupte , Ashok Soota, Madhur Bajaj and Sunil Kant Munjal. This year, XIM was proud to welcome Ms. Vinita Bali, MD, Britannia Industries Limited to deliver the 8th Annual Foundation Day Lecture.
Ms. Bali was welcomed by Fr P.T. Joseph, S.J., Director, XIMB and Mr. Rajive Kaul, Chairman, Board Of Directors, XIMB. Mr. Kaul introduced Ms. Bali as a business leader with passion, energy and vision – one who was always led from the front.
Ms. Bali talked about it being important for future managers looking to increase the social and human development index along with the economic development index. She upheld Bill Gates and Warren Buffett as examples of modern day heroes because they were advocates of creative capitalism, wherein wealth is used to create more wealth along with social upliftment. Ms. Bali also insisted that India's great human capital "needs to be nourished – physically, emotionally and spiritually" for the country to scale new heights and achieve multifaceted and multi-dimensional growth. She also spoke about Britannia's policy of looking at corporate social responsibility as corporate sustainable responsibility.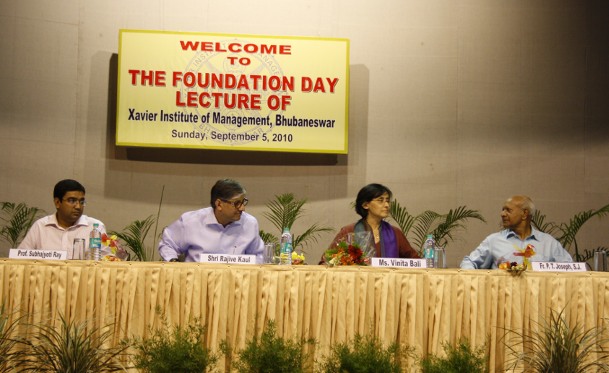 Ms. Vinita Bali, Mr. Rajive Kaul, Fr P.T. Joseph and Prof. Subhajyoti Ray at XIMB Foundation Day
Ms. Bali inspired the students to look into themselves, and create hunger for self development and curiosity. She impressed upon students the importance of investing into the equity of their own growth, to apply spirit and energy to whatever they do along with discipline, practice and excellence. Great leadership, she said, came from "ownership to leave the world a better place than the way it was found."
Her motivating speech was followed by a discussion and Q&A session with students.
The evening was brought to a close by Prof. Subhajyoti Ray, who offered the Vote of Thanks.
Concluded.
.