Eximius 14 - The Entrepreneurship Summit of IIM Bangalore
Start Date:2014-08-09
End Date:2014-08-10
Event Type:Annual Entrepreneurship Summit
Venue:IIM Bangalore
Contact:
IIM Bangalore
Vikram Kadam - 9742388216
Shantha Kumar - 9008655762 
B-School Exams List: CAT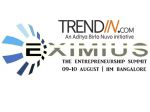 Event Details: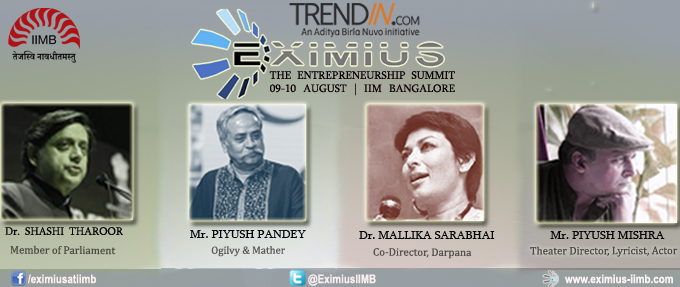 The 2014 edition of IIM Bangalore's Annual Entrepreneurship Summit 'Eximius' will be held on August 9-10, 2014. The two-day summit conducted by the Entrepreneurship Cell of IIM Bangalore will be on the theme 'The road less travelled' and will focus on the not-so-fashionable areas of entrepreneurship such as social, political, sports, performing arts and media apart from tech.

Successful entrepreneurs and industry experts from these fields will be invited to deliver talks and inspire students to venture into these niche areas of entrepreneurship. Eximius '14 will feature 47 events including workshops, panel discussions and online events. The flagship events are 'Ingen' - the B-Plan competition, 'Reach' - the social entrepreneurship event and 'Disrupt it' - a platform for innovative ideas. Start-up Bootcamp, which had around 100+ start-ups on campus last year, is expected to be bigger and better this time around.
 
Eximius '14 will be inaugurated on the evening of August 8, 2014 with a lecture on Entrepreneurship by Dr. Shashi Tharoor M.P., Former UN Under-Secretary General, renowned writer and orator, and with a performance by Mr. Piyush Mishra, Lyricist, Musician and Actor. The Executive Chairman, Ogilvy & Mather, South Asia, Mr. Piyush Pandey, who is known for famous ads such as Dairy Milk 'Kuchkhaashai' and credited to be one of the key masterminds behind BJP's hugely successful 2014 election campaign strategy, will deliver the keynote address on August 9 at 11am. On the night of 9th, Padma Bhushan Mallika Sarabhai, a post-graduate from IIM Ahmedabad who is a professional dancer and has her own venture, will feature in a lecture cum performance session.
 
Eximius '14 will feature thousands of participants from around 150+ colleges all over India. Funding opportunities from Venture Capitalists are on offer apart from whopping prize money of around 5 lakh rupees. Registrations for events are open.
 
Click here for detailed schedule