Lock Stock and Trade 2013 - S.P. Jain Institute of Management & Research,Mumbai
Start Date:2013-01-27
End Date:2013-01-27
Event Type:Entrepreneurship Event
Venue:SPJIMR, Mumbai
Contact:
Chitra Chatterjee
Entrepreneurship Committee
S P Jain Institute of Management and Research | Mumbai
Mobile : +917507357064
Email : pgp12.chitra@spjimr.org, entrecom@spjimr.org
B-School Exams List: CAT, GMAT, XAT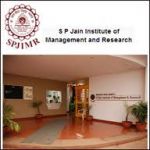 Event Details:
Greetings from the Entrepreneurship Committee, SPJIMR Mumbai and NEN!
We are pleased to inform you that our flagship event "Lock Stock and Trade" is scheduled on 27th January, 2013. Started in 2004, 'Lock Stock Trade' is a, one of its kind, mock IPO game where real entrepreneurs work with aspiring student entrepreneurs to prepare their business growth plans. For the final day, we have selected 15 teams who will first make a pitch and present detailed business plans to mock investors comprising of students, venture capitalists and entrepreneurs. A jury of seasoned entrepreneurs and Venture Capitalists will evaluate 15 business ventures that have made it to the finals. All 15 teams will then release their IPOs. Our mock investors will invest and trade and prizes will be given out to the investors who have the best portfolios. Prizes will also be given out to the team which has the highest market capitalization.
We invite you to attend this event put together by SPJIMR and NEN. Our keynote speaker for LST 2012 is Mr. Dheeraj Gupta, co-founder of JumboKing. We also have teams from colleges like IIMC, IIMB, IIMS, JBIMS, MDI and more, registered with us.
Do come down on 27th January 2013, to participate, win as an investor and partake in an unparalleled learning experience. We have prizes worth Rs. 1.5 Lakh for investors and participants. There will also be on the spot events giving you a chance to win some goodies just by being present.
You can register for the event by filling in your details on the following link: http://www.lstspjimr.org/#!registration1/c22bo