PUMA at Rustomjee Business School
Start Date:2013-06-28
End Date:2013-06-28
Event Type:Full-day event/workshop
Venue:Dahisar, Mumbai
Contact:
Ms. Shipra Bhatia
Asst. Prof. Marketing
Rustomjee Business School
Tel 28937458
B-School Exams List: CMAT, MHCET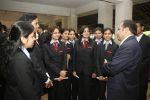 Event Details:
This program is organised by Rustomjee Business School's Live Projects Committee for the MMS Year 2 students.
Subject: Retail Management -
Understanding retail operations of Puma (2 days in-class training)
Followed by Live exposure to customer interaction in Apparel/footwear/accessories sales / Customer experience enhancement with cashiering and data/feedback collection activities.
Document Summary:
Rustomjee Business School offers a 2-year MMS program affiliated to University of Mumbai, and approved by AICTE.Follow our school blogrbsmumbai.blogspot.in/