SIBM Bengaluru is all set to host the National Level Student Conference "Symposio 2014"
Start Date:2014-03-01
End Date:2014-03-01
Event Type:National Level Student Conference
Venue:SIBM Bengaluru
Contact:
SIBM Bengaluru,
95/1, 95/2,
Electronics City, Phase-1,
Hosur Road,
Bangalore-560 100
B-School Exams List: SNAP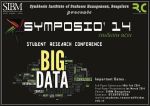 Event Details: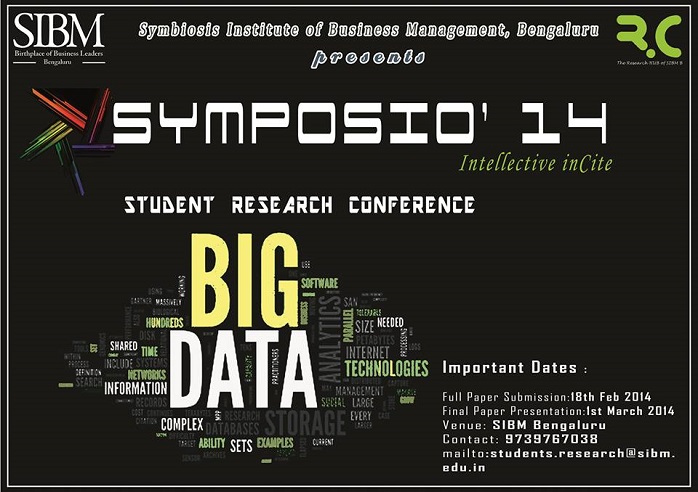 Symbiosis Institute of Business Management Bengaluru (SIBM-B) is all set to host its 1st National Level Student Conference "Symposio 2014" on 1st March, 2014. The Students' Research Committee of the institute is organizing the same. Symposio 2014 aims to provide a platform for the students to showcase their intellectual insights on current management scenarios. The theme for "Symposio 2014" is "Big Data Analytics: Transforming Businesses from Reactive to Proactive"

About Symposio 2014:
"Numbers have an important story to tell;they rely on you to give them a voice"-Stephen Rew
 
The volume, variety and velocity of data coming into an organization continue to reach unprecedented levels. The facts one needs are likely buried within a jumble of legacy systems, hidden in plain sight. Big data is the next frontier for innovation, competition, and productivity. The management world in recent times is buzzing with big data analytics to transform data to knowledge and information to drive their business to success. The spotlight for "Symposio 2014" is on "Big Data Analytics: Transforming Businesses from Reactive to Proactive". "Symposio 2014" attempts to capture the spirit of big data and analytics through stimulating discussions to scrutinize application of analytics in the four pillars of management vis-à-vis Finance, Marketing, HR and Operations through white paper presentations and seminars by eminent speakers in the domain.
 
Tracks for Symposio-2014:
Track I: Big Data Analytics & the Financial Environment
Track II: Big Data Analytics & Advances in HR practices
Track III: Implications of Big Data Analytics on Sales and Marketing Decisions
Track IV: Applications of Big Data Analytics to increase Operational Efficiency