IIM Kashipur Final Placements 2014: Sales & Marketing rules the roost
The Indian Institute of Management Kashipur is pleased to announce the successful completion of the Final Placement Process for the batch of PGP 2012-14. In its third year of operation, the response from the industry has been phenomenal.
This year final placement season of IIM Kashipur witnessed 27 esteemed companies offering 39 offers for 38 students. In addition to the past recruiters, a host of new recruiters have come on board to be associated with the institute. This season too witnessed international placements like last year where students were extended offers by overseas recruiters.

Batch of 2012-14:
The batch of PGP 2012-14 possessed a strong academic background and majority of the batch had prior work experience in industries like Energy, Manufacturing, IT, Power, Telecom etc. The batch boasts of a right mix of students with 40% fresh candidates and the rest come with an average work experience of 26.25 months.

Industry Breakup of Recruiters: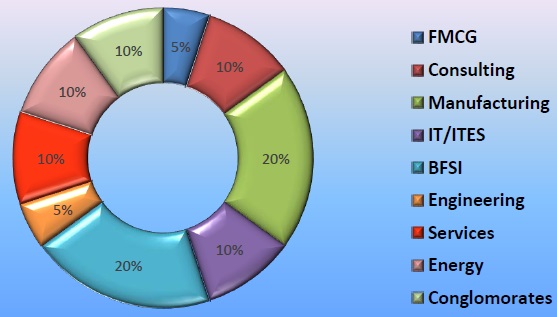 Offers Breakup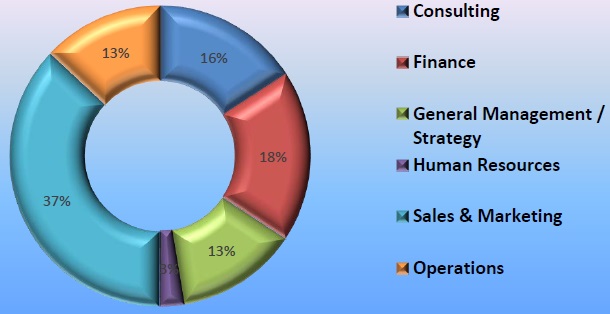 Sales & Marketing
Sales & Marketing emerged as the most sought after area with 37% of the batch opting for it. The profiles offered were B2B, Brand Management, Distribution Channel Management, Market Research, and Rural Marketing amongst many others. The major recruiters in this domain were BPCL, Eveready, ECCO Electronics, Hydrocarbons Education & Research Society, Mehta Group etc. Conglomerate EMEL group offered international placements in this domain.

Finance
18% of the batch opted for the BFSI domain. The major recruiters in the domain were ICICI, ICICI Pru, LIC HFL and Yes Bank. Students were offered profiles in Corporate Banking, Customer services & Ops, Product Management, Project Finance & Treasury.

IT &Consulting
This year's process saw the students being offered roles in the domain of IT & Consulting for the first time. This upcoming domain witnessed companies like Ernst & Young, KPMG, NEC Technologies India Limited and Nucleus Software offering roles like Associate Consultant, Advisory Services, Product Executive. 16% of the batch opted for this domain.

Operations
This year's placement season saw 13% of the batch opting for Operations domain. In addition to the past recruiters, new recruiters also offered varied roles like Operation Analyst, Supply chain & Procurement Executive etc in this domain. Some of the eminent recruiters in this area were Emerson, Tata Steel, TVS logistics, etc.

General Management & Strategy
13% of the students were extended offers under General Management & Strategy domains. Esteemed companies like L&T, Tata Power, TVS Tyres, etc. recruited students for general management roles as well as for niche roles like EA to the Vice President.

HR
This year placement process also witnessed TVS Tyres extending offer to students in their Corporate HR function working along with group HR president.

Placement Statistics: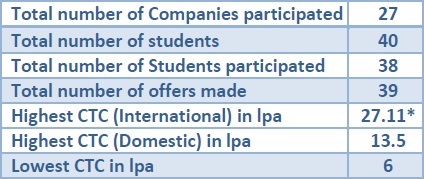 *Subject to market exchange rate as on 20th March 2014.
Concluded.
.