IIM Udaipur Final Placements 2014: ICICI Bank emerges largest recruiter
Indian Institute of Management, Udaipur started the final placement process for the "Class of 2014" on a rolling basis from November, 2013. A total of 52 companies have participated in the final placement process, offering a wide variety of new, niche and regular roles spanning across Finance, Consulting, Sales and Marketing, Operations, Analytics, IT, HR, Business Development and General Management.
This year's placement process has so far seen an overwhelming response from new recruiters such as Cognizant, Accenture, Dell International Services, EY, Godrej & Boyce, MindTree Ltd., Titan Industries etc. to name a few. Regular recruiters like GE India, ICICI Bank, YES Bank, Bajaj Auto Ltd., Quikr, Genpact, BPCL, Crompton Greaves and Mother Dairy continued their association with the institute. ICICI bank was the largest recruiter, hiring a total of 8 students from campus. Cognizant, a first time recruiter, was the second largest recruiter hiring a total of 6 students. In terms of the highest domestic offer on campus, GE India emerged as our biggest recruiter for this year's placement process, followed by Bharat Petroleum Corporation Limited.

a) Pre-Placement Offers:
A number of companies reinstated their faith in IIM Udaipur during final placements this year. The confidence was evident with six students receiving pre-placement offers, emphasizing the importance with which summer internships are treated by the companies, as well as the performance of the students of IIM Udaipur. With the increase in batch size and our continued association with corporates, the number of PPOs is expected to go up in the coming years.

b) Domain-Wise analysis:

Finance- Three pre-placement offers were accepted in the finance domain. Two pre-placement offers were made by ICICI bank, which also recruited six more students through the on-campus interviews, making it the largest recruiter on campus. The third pre-placement offer was made by GE India in FMP role. Management Trainee roles were offered by companies like Aranca.

Sales and Marketing- With the highest number of offers being made, Sales & Marketing continued to be the major choice of students as well as recruiters covering 35% of the batch under this domain. Two International offers were made by EMEL Group in this domain. Firms like Bajaj Auto, BPCL, Crompton Greaves, Dalmia Cements, Nucleus Software, Yes Bank, Titan Industries, Wipro, etc. offered a variety of roles like Brand Management, B2B Marketing and Value Sales.

Operations/Supply Chain- Healthcare/ Pharmaceutical companies showed a keen interest in our placement process this year by offering a variety of roles in Operations/Supply Chain. Some prominent recruiters included Accenture, Manipal Hospitals, Mewar Hospital, Infosys BPO, Mother Dairy, Nucleus Software, and Wipro.

Consulting- The Consulting domain attracted a good number of participants from the batch and emerged as a function of choice. This year saw a remarkable increase in the number of consulting companies participating in the recruitment process at IIM Udaipur. EY led the way by offering roles of Consultant and Associate Consultant. Catallyst Constellations, Dell International Services, Infosys BPO, JDASoftware, Max Life Insurance, Mindtree Ltd., Talisma Corporation Pvt. Ltd. and Quikr provided various roles in E-Commerce, Finance and IT consulting.

HR- Rajasthan Electronics & Instruments Limited recruited for roles in Human Resources.

Business Development- Cognizant, a new recruiter to the campus this year, displayed immense confidence in the students of IIM Udaipur, and ended up being one of the biggest recruiters from the campus this year. Cognizant hired 6 students for the Business Development role. Max Life Insurance also recruited one student under this domain.

General Management- Future Supply Chain offered a role under this category. The student, under this role, would be given an opportunity to work across functions in the organization.

Leadership Development Program- Continuing its relationship with IIM Udaipur, CSS Corp offered its unique and flagship profile of Management Associate under the Leadership Development Program this year. An international offer was made in the Leadership role by NMC Healthcare with a profile of Executive Assistant to the CEO.

Entrepreneurship - The road less taken
Two students opted out of the placement process to pursue opportunities as entrepreneurs with the support of the Entrepreneurial Development Committee (EDC), IIM Udaipur. The start-up is in the Food Processing industry that would involve manufacturing, packaging and marketing of the product(s). With the constant encouragement of IIMU's Director, Prof. Janat Shah to promote entrepreneurship, this is the institute's first entrepreneurial venture.

Placement Details
In a batch of 99 students 98 students were eligible to sit for placement process:

1. Classification of the entire Placement Pool: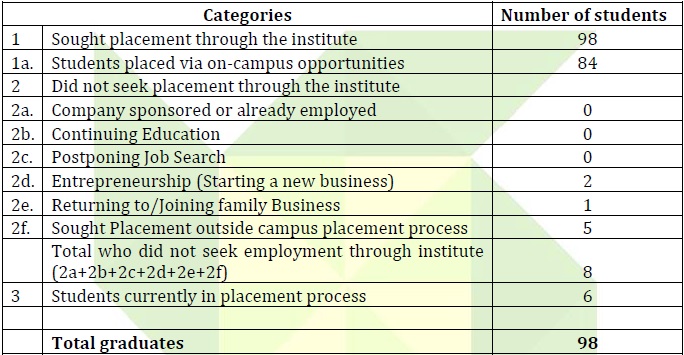 Table 1: Classification of entire Placement Pool
The institute is supporting the students still in the process and the placement process is expected to be over in the next two weeks.

2. Classification Based on Sectors: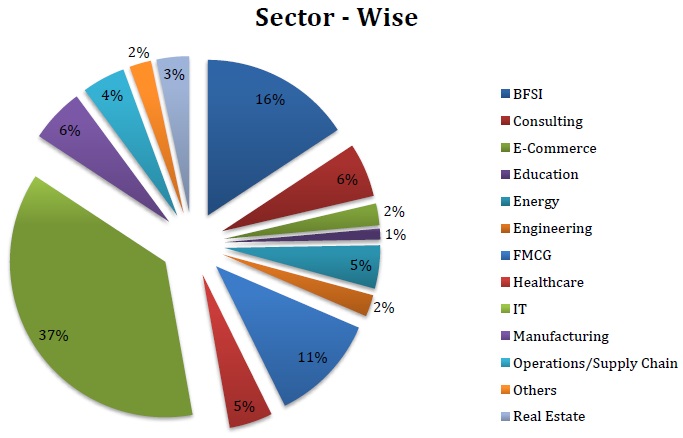 3. Classification based on Functions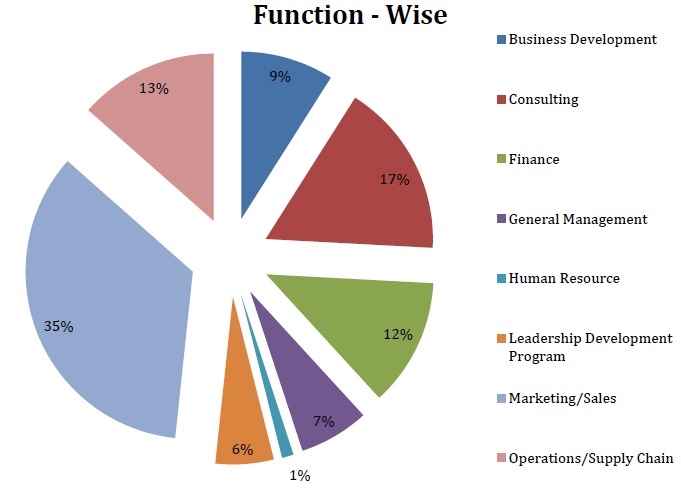 4. Classification Based on Location:

4.1 Classification based on Locations (Global)

Table 4.1: Classification based on global locations
4.2 Classification based on Locations within India: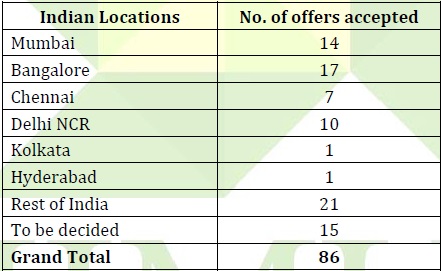 Table 4.2: Classification based on Indian locations

.