International placements galore at IIM Kashipur
IIM Kashipur successfully completed its summer placements for the batch 2013-2015 in January 2014 and steered ahead of this year..
Overall, the average stipend has increased as compared to previous year, despite the batch size growing by 225% to 130. 7 students were offered international placements. The highest international stipend offered was Rs 1.5 lakhs per month while the highest domestic stipend was Rs 60,000 per month.

A total of 60 companies participated in the summer placement process this year. The recruiters offered profiles spanning across Banking, Equity research, Financial modelling, Valuation, IT Consultancy, Marketing Research, Brand strategy, Sales, Rural marketing, B2B marketing, Advertising, Business Development, Product Management, Corporate Social Responsibility, Merchandising, Human Resource Management, etc. This is the third batch of IIM Kashipur.
Batch of 2013-15:
The batch of PGP 2013-15 comes with a strong academic background and majority of the batch has prior work experience in industries like Banking, Manufacturing, IT, Market Research, Power, Education etc. The batch boasts of a right mix of students with 37% fresh candidates and the rest come with an average work experience of 31.3 months. Female candidates constitute 21% of the batch strength with 52% of them having prior work experience.

Industry Breakup of Recruiters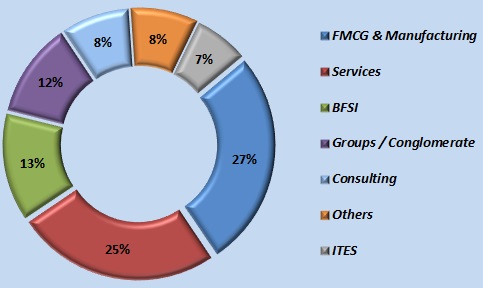 Offers Breakup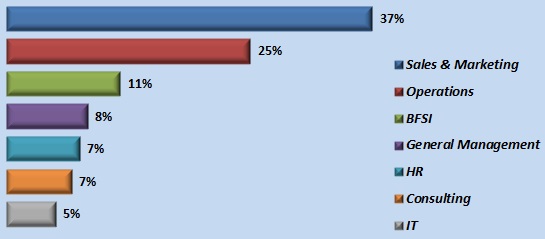 Marketing
Sales & Marketing emerged as the most sought after area with 37% of the batch opting for it. The profiles offered were B2B, E-Commerce, Market Research, Social Media Marketing, Retail Marketing and Rural Marketing amongst many others. The major recruiters in this domain were Emami, Emerson, GSK Pharmaceuticals, JK Group, Ruchi Soya, Tata Global Beverages and UB Group.

Operations
25% of the batch opted for the Operations Management domain. The major recruiters in the domain were Blue Dart, KEC International, Reliance Power, Tata Auto Comp and TVS Tyres. Students were offered profiles in Supply Chain Consulting, Quality Management, Kaizen and Materials Requirement Planning apart from conventional profiles.

Finance
The Finance domain witnessed many of our past recruiters along with new ones offering diverse profiles. Reputed firms like ICICI Bank, Oiko Credit, Reliance General Insurance, Reserve Bank of India and SS&C GlobeOp offered profiles like Corporate Banking, Risk Management, Project Finance, Valuation, Derivatives, Insurance and Development Finance.

HR
This year IIM Kashipur witnessed a good number of students showing interest in Human Resources Management domain and attracted big recruiters like Datamatics, ICICI Prudential, KEC International, Raymond and TVS Tyres.

IT &Consulting
This year's process witnessed 12% students opting for profiles in IT & Consulting area. The major firms included Array Consulting, KPMG, MaFoi Analytics, Manipal Group and NDDB. The profiles offered were Business Development, Due Diligence, Strategy, IT Consulting, Systems Analyst etc.

General Management/Others
8% of the students opted for General Management roles and niche profiles in Institute Building & Planning, CSR& Sustainability etc. Well-known recruiters like Nextgen PMS, Teach for India and The Mobile Store extended offers in this domain.

Placement Statistics:

Concluded.
.