JBIMS successfully concludes final placements 2014 with highest salary 26 lakhs
The recently concluded executive placements season at Jamnalal Bajaj Institute of Management Studies corroborates this maxim. With students garnering an array of profiles across a multitude of domains, the institute has continued to predicate its excellence in imparting quality management education.
The season witnessed splendid hiring from legacy recruiters and also witnessed genesis of new relationships. With impressive gravitas and erudition, the students were able to bag roles of their choice across the entire industrial ambit. In the wake of an economic resuscitation, Banks and Financial Institutions hired in large numbers and offered a variety of profiles. FMCGs, Consultancy Firms, Telecom companies and IT corporations too recruited in substantial numbers and offered profound roles across the industrial visage. Prefatorily, the batch of 2014 is all set to venture into the corporate arena with ripe opportunities to leverage on and to exhibit their acumen and adroitness.

HIGHLIGHTS: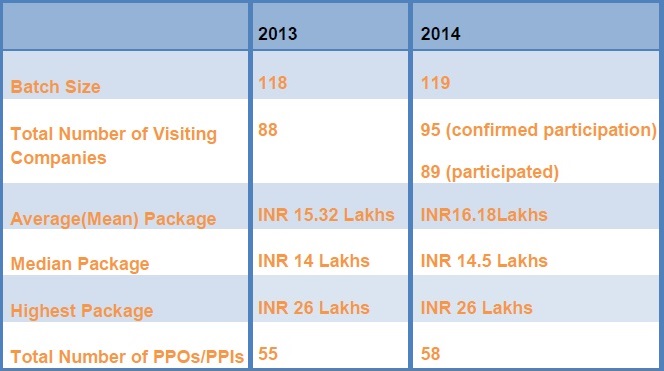 BATCH OF 2014:
The Batch of 2014 comprised of students from diverse fields like Engineering, Chartered Accountancy, Law, Medicine and Management Studies and with varied work experiences in some of the reputed firms in the industry. With girls forming 23% of the total strength, the batch demonstrates good gender diversity too. Consequently, the versatile backgrounds of the students attracted a multitude of diverse and niche profiles from different companies.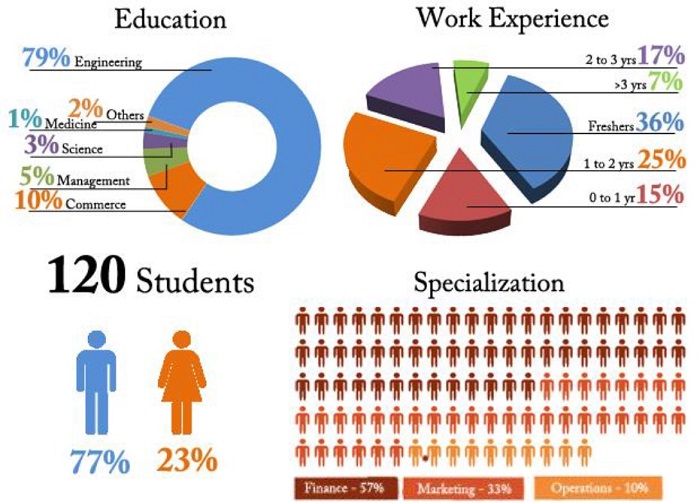 RECRUITMENT:
While JBIMS continues to feature high on the list of must visit campuses for any recruitment team that has experienced JBIMS' commitment to excellence in the past, a large number of companies have now taken the first step towards a long term mutually benefitting relationship by extending varied roles and offers. This is especially significant in the light of the current market scenario. This also reinforces the fact that JBIMS continues to be an institute that nurtures and develops talent by way of a well-defined and disciplined pedagogy.

Companies that showed keen interest in forging new ties included The Boston Consulting Group, HDFC Bank, ING Vysya Bank, JM Financial, Axis Securities, ICICI Securities, Barclays, Ernst & Young, JLT, Nivea, Eli Lilly, Whirlpool, Samsung, Siemens, Syngenta and Arvind Brands and Nomura, As these companies continue to ensure that students get the kind of roles and profiles that they have always looked forward for, the level of domain knowledge shown by the students coupled with their commitment to work continues to leave the companies always wanting to come back for the next recruitment season.
Pre-placement Events: A plethora of student-corporate interaction avenues like summer internships, competitions among others provide an apt platform for both the student and the companies to understand each other better. JBIMS continues to prove its mettle even in this aspect of management education testimony to which is the large number of pre-placement offers and interviews offered by companies like Citibank, HSBC, JP Morgan, Hindustan Unilever ,Colgate Palmolive, ITC, Pepsi, Dabur, Mahindra & Mahindra, Vodafone, ICICI Bank, Yes Bank, Nomura, Cummins, GSK Pharmaceuticals, Medtronic, Jones Lang LaSalle, Raymond, Tata Capital, TCS, HCL Technologies.

International placements:
This year also saw a keen interest being shown by various companies for positions in the international arena which opens the doors for an exciting, unfamiliar and rewarding career for students looking forward to such a career. This season saw leading FMCGs and Banks from the industry making such lucrative offers.

SECTOR-WISE:
BFSI & IB:
The students of JBIMS continued to prove their mettle bagging excellent profiles with leading Banks and Financial Institutions such as Citibank, Standard Chartered Bank, HSBC, JP Morgan, Barclays, ICICI Bank, Avista Advisory, HDFC Bank, Yes Bank, ING Vysya, JLT, Ratnakar Bank, Tata Capital, Nomura, Kotak Mahindra Bank, CRISIL, Axis Securities, ICICI Securities, JM Financial, SBI Capital Markets, Tata Capital, Indiabulls, India Forex, Aranca, Omnivore Partners, Indus Valley Partners, Magma FinCorp, Bank of New York Mellon reaffirming the faith the industry has always rested in JBIMS as a premier finance destination. Roles offered included Investment banking, Wholesale and Corporate Banking, Commercial Banking, Retail and Consumer Banking, Corporate Strategy Profile and Debt Capital Markets, Structured Finance, Project Finance, Treasury and Risk Management, Credit Research, Commercial Credit, Credit Analysis, Institutional Finance, Mortgage Services, Global Banking and Global Markets.

FMCG & PHARMA:
FMCG &Pharma companies visiting the campus saw the mix of the best names in the industry. Big names in the industry such as Hindustan Unilever, Procter & Gamble, ITC, PepsiCo, Nivea, Emami, Janssen Pharmaceuticals, GSK Pharmaceuticals, Cipla, Eli Lilly, Abbott, Medtronic, Glenmark, Ranbaxy visited campus and hired students across functions and profiles like Branding in Emerging Markets, Brand Management, Marketing, Market Research, Consumer Knowledge, Sales and Corporate Finance among others.

CONSULTING:
Consulting has always seen the best companies coming and recruiting from JBIMS. This year was no less. Major global strategy consulting firms hired from the campus offering exclusive profiles clearly demonstrating that talent was always well acknowledged by the industry. Some of the major recruiters this time were McKinsey & Company, Boston Consulting Group, Ernst and Young, Cognizant Business Consulting, Jones Lang LaSalle, Renoir Consulting, SI-Creva Consulting, along with several others.

MANUFACTURING & CONGLOMERATES:
Various well known manufacturing companies and conglomerates such as Samsung, Siemens, Whirlpool, Larsen & Toubro, Cummins, Tata Steel, Jindal Steel and Power, Raymond, Bajaj Electricals, Jubilant Motorworks, Manipal Group offered various profiles in General Management, Strategy, Corporate Finance and Marketing.

.