A record breaking Summer Placements at JBIMS - 79 companies, 120 students and 100% placements!
| November 12,2011 12:55 pm IST
"Fortitude in the face of adversity"
The Summer Placement Process at Jamnalal Bajaj Institute of Management Studies exemplified this adage and added yet another feather to its cap, as it completed an immensely successful recruitment season.

100% placements, 79 companies, with the average domestic stipend reaching Rs.
89,000 and the highest domestic stipend touching new heights of Rs. 2 lakhs is a testimony to the continued faith the industry places in the quality of students at JBIMS.

The summer placement process this year was set against the backdrop of a difficult economy. But this did not dampen the pace of recruitments at JBIMS, with students getting desired profiles across various sectors. Apart from the regular recruiters that visit JBIMS for recruitment every year, this year witnessed the addition of coveted companies such as Accenture Management Consulting, Standard Chartered Bank, Jones Lang LaSalle, JM Financial and Amul.

Gaurav Mundra, a placement committee member says, "Despite the apprehensions regarding the conditions of the economy, we successfully secured 100% placements with a significant increase in stipends and placed students in reputed organizations with their desired profiles. Our healthy relations with the industry and the legacy of JBIMS helped ensure that the process was carried out without any glitches. We would also like to thank our alumni for their never ending support to the Placement Committee and the Institute".

Batch Profile
The Batch of 2013 has a vibrant mix of students which includes 64% students with work experience ranging from 1-4 years. In addition to that, the students come from varied educational backgrounds including Engineering, Management, Commerce, Hospitality, Medicine etc. Such a heterogeneous batch profile attracted companies from diverse industries which offered equally diverse job profiles.

Vineesh Padmanabhan, a student placed in a leading FMCG firm, says, "We had a lot of interesting profiles on offer from some of the best companies in the industry. For me, it was a dream come true to have gained an opportunity to work with one of the most admired organizations and in a profile that I always aspired for. I look forward to make the most of it."

Key Sectors and Companies Visited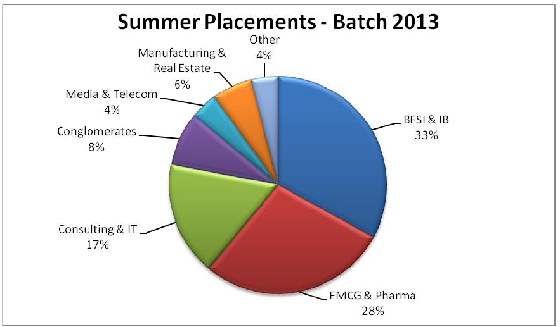 Consulting
Consulting has always been one of the most sought after profiles & this year was no different. This year witnessed a rise in the number of consulting companies recruiting in good numbers. Accenture Management Consulting offered high end consulting roles to students in a variety of projects. Some of the other niche profiles included carbon consulting, real estate consulting by companies like Emergent Ventures, JLL, etc.

FMCG & Pharma
This year's Summer Placement season was marked by a significant presence of companies from the FMCG and Pharmaceutical sector, with almost 28% of the batch joining this sector. Sales, Marketing, Brand Management were some of the profiles offered by major recruiters such as HUL, P&G, Colgate Palmolive, Castrol, Johnson and Johnson Consumer, Britannia, Johnson and Johnson Pharma, GSK Consumer, Abbott, etc. BFSI & IB.

JBIMS, renowned for its finance specialization, was visited by some of the best known and respected companies to take on board the sharpest minds of the country. Companies such as Standard Chartered, Citibank, Nomura, ICICI Bank, JM Financial and HDFC were some of the major recruiters in this sector, offering varied profiles such as Consumer Banking, Investment Banking, Corporate Finance, Risk Management and Treasury.

Conglomerates
Conglomerates, by virtue of their operational diversity, offered internships in multiple domains. Students had the opportunity to choose from a variety of profiles such as FMP, General Management, SCM, Reverse SCM, Logistics and EPC offered by companies such as RIL, L&T, M&M, etc.
The following table lists some of our major recruiters across the various sectors:
.