Consulting, Marketing, Analytics rules the roost at Great lakes Chennai Final Placements
| June 09,2012 01:11 pm IST
The placement season for the flagship Post Graduate Programme in Management (PGPM) at Great Lakes Institute of Management was filled with exciting roles, opportunities and profiles. The placement season concluded with all the graduates being placed, maintaining Great Lakes track record of 100% placement since its inception.
The class of 2012 (Spartans) comprised students from diverse profiles and work experience ranging from 2 to 11 years.
156 leading companies participated in the placements, an increase of 25% over last year, of which 33 were new participants, which includes 3 International Recruiters. The average annual salary offered was 10.80 Lakhs per annum, an increase of 15% over last year while the median salary was 10.25 Lakhs. The highest salary offered was 24.4 lakhs by a US based Management consulting firm. Further, the average campus CTC offered to Spartans was 240% of the average incoming salary (i.e. 2.4 times of the average last drawn salary of the batch before joining Great Lakes).
28 of the 297 students opted out of the placement process either embarking on their entrepreneurial journey, returning to their parent companies as sabbaticals or taking up offers off-campus.
The highest number of offers was made by companies from Consulting, Technology and Sales & Marketing. Analytics, Healthcare, Infrastructure, Media, Travel, Auto, Manufacturing, Education and Energy were some of the other sectors chosen by the Class of 2012. International placements were offered by companies based in UAE, Philippines and Saudi Arabia.
The diverse roles offered during the placement season of 2012 included those of ERP Consultant, Equity Research Analyst, Business Planning Manager, Corporate Finance Manager, Mergers & Acquisition, Grid Infrastructure Consultant and Social Media Marketing Manager. Various specialized and new age positions including those of Psychometricans and game architects were up for grabs this year.
Recruitment Details:
Consulting: The major recruiters in this category were ZS Associates, Deloitte, PWC, Cognizant Business Consulting, TCS Global Consulting Practices (GCP), Mahindra Satyam, IBM, KPMG, Technova Global, and Universal Consulting. Highest salary offered: 24.4 lakhs
Finance: Some of the major recruiters for the finance students of Great Lakes were VistaSoft, Axis Bank, Kotak Mahindra Bank, RBS, Dunia Finance, Standard Charted/Scope International, Bank of New York Mellon Corporation/iNautix, Orchid Pharma. Roles varied across Wealth Management, Financial analytics, Mergers & Acquisition, Equity Research and Institutional Investments.
Highest salary offered: 22 lakhs
Sales & Marketing: Some of the major recruiters who offered Sales & Marketing jobs were Perfint Healthcare, Manipal Education, Heymath, Axis Bank, Kotak Mahindra bank, Hirco, Euro monitor, Suprabha, Gameshastra, Defiance, CBazaar, Marg, Svapas Innovation, Daimler, Dunia Finance and Saudi Development and Innovation Group. Highest salary offered: 22 lakhs
Operations: Companies such as Tecpro, TVS Motor and Sundaram Clayton group, SPIC group, Leitner Shriram Manufacturing, KPIT Cummins, Apollo Hospitals, Galaxy Surfactants, were among the many recruiters here for Operations and Product Management roles. IT majors also offered Project Management roles to the experienced Spartans. Highest salary offered: 12.5 lakhs
Analytics: Many offers were made this time by niche business analytics players, reposing the faith in the quality of education offered at Great Lakes. Mu Sigma, Fractal Analytics, IBM, Latent View, and Dunia Finance were some of the key recruiters in this space. Highest Salary offered: 22 lakhs
Technology: IT majors such as Cognizant, Infosys, TCS, Wipro, HCL, Mahindra Satyam, L&T Infotech, Virtusa, HSBC Technologies, Ramco Systems, Photon Infotech visited campus this year. Highest salary offered: 20.5 lakhs
Prof. S.Sriram, Executive Director of Great Lakes Institute of Management, said, We are very happy with the response we have received from the corporate world despite tough economic conditions, with a larger and more diverse base of recruiters than ever before. This is testament to the confidence of our corporate partners in the quality of our graduates and we look forward to serving their talent needs in the years to come.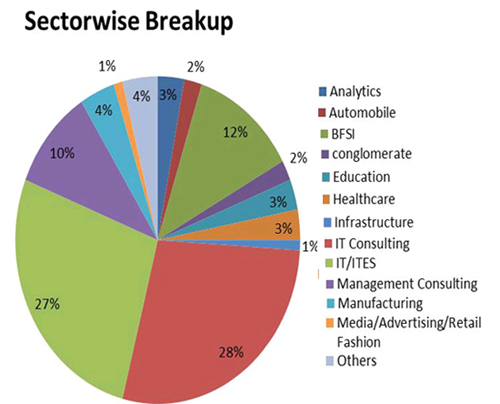 Some of the specialized sectors such as Assessment, Service Provider, Game Producers, Sports, Travel, Logistics, Market Research etc. also recruited from Great Lakes.
Concluded.
.