DMS IIT Delhi concludes Final Placements 2012: Average package Rs.13.08 lakh
| May 08,2012 01:58 pm IST
The class of 2012 was offered coveted profiles across domains with some of the most respected names in the industry looking for candidates in the talented student pool of DMS, IIT Delhi. Students received offers for profiles like Manufacturing, Supply Chain Management, Consulting, Banking and Finance, General Management as well as leadership roles.
Several students received international placement offers indicative of the spread of Brand DMS, IIT Delhi in the industry. Even the negative market sentiment could not impact the overall domestic salary average which stood at a healthy 13.08 LPA with the median salary hovering at 12.5 LPA.
Pre-placement Offers
Pre-placement offers are considered to be one of the key performance indicators of any B-School. It reflects synergy between the employers expectations viz-a-viz the quality of the work produced by the students during their internships. Out of a batch of 97 students an overwhelming 19% of students received PPOs which speaks volumes about the employability of the students at DMS, IIT Delhi.
Placement Statistics Domain Wise
DMS, IIT Delhi showed continuous improvement in terms of both quality and quantity of jobs offered. This fact is significant in the face of the 100% increase in batch size from 52 in previous year to 97 in the current year.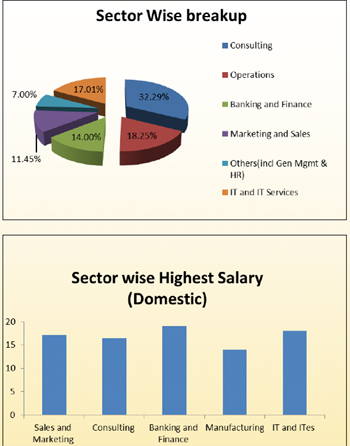 Finance
Finance domain emerged as the highest pay master across all sectors. Students received job offers from the best in the industry such as American Express, Nomura and Synergy Consulting. With coveted profiles from Citibank, Standard Chartered, Citi Corp, Power Finance Corporation, IDBI Federal, Union Bank of India and Bank of India, the banking domain witnessed strong growth at DMS. GE offered the much coveted Global Financial Management Leadership profile.
Consulting
Consulting has been the preferred career of many at DMS, IIT Delhi. The students having prior work experience have shown a strong inclination towards consulting as it helps them to leverage their domain experiences for a successful career. Almost 32% students opted for consulting profiles in companies like Deloitte, Accenture, McKinsey KC, KPMG, Wipro, Virtusa, Cognizant Technology Services and Hewlett Packard. Varied profiles like Management Consulting, Risk Advisory, Supply Chain Consulting and Technology Consulting were on offer at DMS.
General Management and HR
General Management and leadership profiles were offered by many companies showing strong confidence in leadership skills development at DMS. GE offered its most sought after leadership profile in Information management while Welspun continued its strong association with DMS by offering roles across domains. IBM offered its much coveted general management profile for the first time.
Operations
Continuing the trend of the previous years, operations profiles were offered in plenty for the students at DMS. Challenging roles were offered in Manufacturing, Supply chain management and Plant Management. Varied profiles in operations were offered by Tata Motors, P & G, United Breweries, Idea, BASF and Reckitt Benckiser. Overseas offers were made by Continental Tyres and Mitsui Chemicals, Japan in the operations domain.
Sales and Marketing
With a strong research background in marketing strategies, the students at DMS were able to attract excellent sales and marketing profiles from a number of marketing giants. Companies like Tata Motors, Idea, Technopak and Panasonic offered varied roles in sales and marketing. UB group made its first entry at DMS, IIT Delhi and offered challenging jobs in Marketing.
IT and ITeS
Technology supremacy of brand IIT was reiterated by the presence of Microsoft, Cognizant, Infosys, HCL, Deutsche Bank, eClerx on campus. A plethora of profiles were offered across sustainability, communications, mobility, energy, ERP consulting, program management and IT sales. International role was offered by DeNA Japan in mobile applications.
Concluded.
.