DMS IIT Roorkee Final Placements 2012: 1.02 offers per student, Deloitte, Infy, CRISIL, HCL among key recruiters
| June 12,2012 02:11 pm IST
The class of 2012 Department of Management Studies, IIT Roorkee consisted of 69 students, who came from diverse backgrounds, domiciles, work experience (ranging from 0 to 4 years) and profiles making it a batch of perfect assortment for MBA. 69 students specialized in two streams given the curriculum that mandates the students to specialize in at least two streams among Finance, Marketing, Operations and IT.

The final placement process for the class of 2012 has been a delight and has captured new level of vivacity among the students, faculty and the placement committee. The executive placement process this year has seen the participation of 18 companies resulting in 71 offers. Two students opted out of the placement process to pursue their entrepreneurial interests.

Fishing the candidates out of the DoMS pool by the business bigwigs has been done in huge numbers. Deloitte, Infosys, CRISIL, and HCL Technologies together offered a total of 32 offers that include profiles ranging from Risk Management, Consulting and Research Analyst.

IBM, PwC, iGatePatni, SmartCube, Asahi India Glass Ltd etc. have offered the students an eclectic mix of profiles ranging from market research, supply chain, product supply, corporate leadership, business analyst, etc.

Participation from public sector this time was represented by companies like UCO Bank, Bank of India, Bank of Baroda, IDBI Bank and few others, which also have recruited in big numbers. They offered profiles falling in Product Marketing, General Management, Human Resource, Corporate Credit and Treasury. These companies together gave 21 offers.

The profile mix has improved by a notch up and the compensation figures also have been on a consistent rise from the past years. The average salary is 7.8 Lakhs. The median salary stood at 7.25 Lakhs and the highest compensation offered is 9.89 Lakhs.
Batch Profile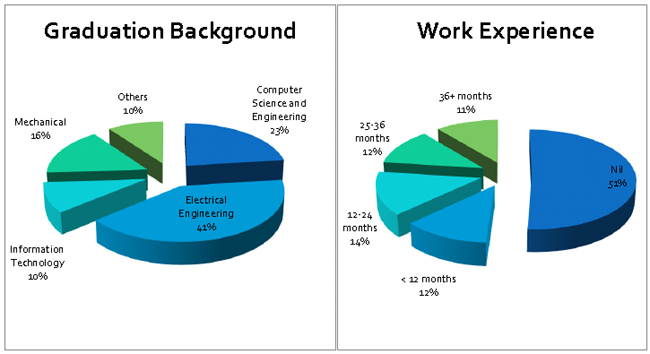 Dual Specialization Breakup of Students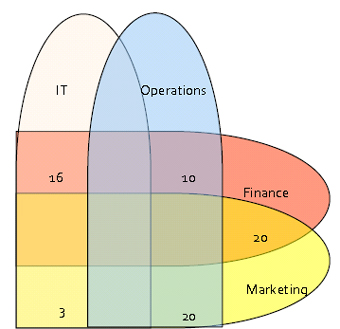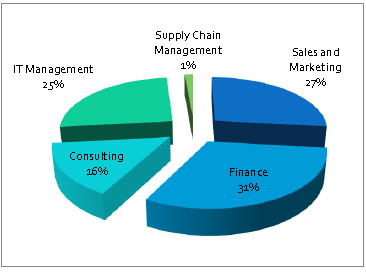 A sum total of 18 companies visiting the campus gave 71 offers to the students of DoMS, IIT Roorkee.
The profiles offered to students ranged from Enterprise Risk Solutions Consulting, Product strategy and specialist, Business analyst, Marketing research, financial analysts, business development, International Trade Marketing, Sales and Supply chain management.
The breakup of the profiles is given in the pie chart.
Placement Summary
Total number of Students participated: 65
Average salary offered: INR 7,80,600
Highest salary offered: INR. 9,89,100
Lowest salary offered: INR. 5,50,00
Median salary offered: INR 7,25,000
Total number of offers: 71
Total number of companies: 18
Sector wise details
Banking and Finance: The banking and finance sector attracted around 31% of the batch with offers being made from prominent companies like Bank of India, Bank of Baroda, IDBI Bank, Irevna (CRISIL), UCO Bank. Some of the profiles which were offered are Equity Research, Corporate Credit, Treasury, Commercial Banking and Retail Banking.

Sales and Marketing: The companies which offered marketing profiles are Infosys, HCL, IBM, Asahi Glass India Ltd. The profiles that were offered by these companies included pre sales, market research, business development, corporate international trade marketing, sales management etc.

IT Management: Students interested in IT Management were offered profiles of Solution Management, Business Analyst, Domain Specialist, and Product Specialist by leading companies like Infosys, HCL, Smart Cube, iGatePatni.

Consulting and Strategy: The consulting and strategy profiles were offered by leading companies like Deloitte and Touche Assurance and Enterprise Risk Services India Pvt. Ltd., Price Waterhouse Coopers and Infosys. Students were offered challenging roles like Enterprise Risk Solution, IT consulting, Product Strategy to name a few.
Operations Management: Students interested in operations management were offered challenging profiles in supply chain management and Procurement Management by PSUs.
Concluded.
.