FMS Delhi Placements 2010 : Students Prefer Job Content and Profile Over Compensation and Brand Name
| August 10,2010 05:30 pm IST
FMS 2010: Stamping its Authority
FMS once again reinforced its standing as one of the top B-schools in India with the recently concluded final placement process. The Faculty of Management Studies, since long a paragon for University run B-Schools, has always managed to deliver on the promise made to its graduating students and this year was no different.
After a relative lull last year, companies descended down at FMS Delhi to pick up from the best of talent available across the country. Consulting firms, with one of the most coveted job profiles, were back in a major way with 18% of the batch opting for jobs in this domain. The campus also witnessed an abundance of offers in the field of Finance highlighted by the presence of 4 new Investment banks on campus. Domestic banks made a strong presence and picked up a substantial number of students for different roles and designations.
This year saw a shift in the general pecking order with students giving more importance to the job content and profile offered as opposed to the customary factors of compensation and brand name. The Lateral candidates (students with work experience of more than 18 months) of the batch of 2010 were provided with ample opportunities to negotiate with recruiters based on their past work experience and bagged some of the highest paying jobs on campus.
Placement Statistics
The below placement figures cover both of the full time programs at the Faculty of Management Studies; the MBA and MBA-MS programs with a combined strength of 152 students.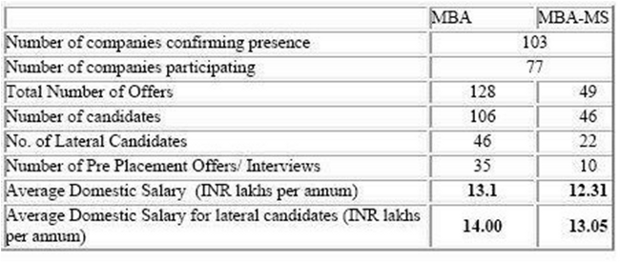 Placement Snapshot
FMS has always prided itself on providing students with a wide variety of roles in different domains and this trend continued with the batch of 2010. All the major functions of Marketing, Finance, Consulting and IT/ Operations witnessed a balanced representation.
.