FMS Delhi Summer Placements 2010 | Record 145 companies visited, 91 made offers
| November 17,2010 01:00 pm IST
Faculty of Management Studies (FMS) Delhi, the pioneer of management education in India, re-affirmed its premier status amongst B-schools with the recently conducted Summer Placements for its students. The 2010-12 batch, consisting of 235 students (an increase of 18% from last year) distributed among the two full time programs MBA and MBA-Management of Services, was placed in style in just 5 days.
A record 145 companies confirmed their presence while 91 companies made offers to students. The average stipend offered for the internship period rose by almost 42% from last year to an all time high of Rs. 85,000.The highest domestic stipend rose by a staggering 150% to Rs. 2, 50,000, offered by an investment bank to students for its Mumbai office posting.
The highest number of offers on campus was made by Citibank, followed closely by Accenture Business Consulting, Tata Administrative Services, Hindustan Unilever, Procter & Gamble and Mahindra & Mahindra.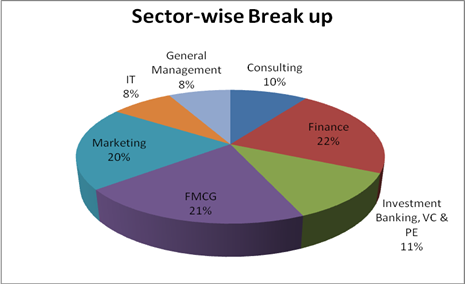 FMS summer placements 2010 – Sector-wise break up

Consulting
Consulting profiles were back on campus in full force with both international and national roles being offered. Arthur D. Little offered international roles to two students while Accenture Business Consulting led the domestic front with 6 offers. Deloitte Strategy & Operations, KPMG, PricewaterhouseCoopers Advisory Functions, Avalon Consulting, Korn Ferry International and Wipro consulting were some other companies that recruited in numbers and made their presence felt.

Finance
The campus also witnessed an abundance of offers in the field of Finance. FMS touched new heights within the finance domain, with a plethora of investment banks, VC's and PE's such as Avendus Capital, Jacob Ballas PE, IDFC PE, Helion Ventures, IDG Ventures, Deutsche GMC, Religare Global Asset Management, JP Morgan, Motilal Oswal Investment Banking, Nomura, SBI Capital, Langham Capital, Synergy Consulting, Singhi Advisors etc making a number of offers to FMS students. Hinduja Global Solutions recruited exclusively from FMS for their structured finance and M&A roles, as did Langham Capital and HDFC Investment Banking division.

Citibank, Standard Chartered and Bank of America offered their coveted treasury roles to FMS, in addition to roles in corporate and consumer banking. FMS also strengthened its relationship with major recruiters such as HSBC, American Express, Tata Capital, Axis Bank, Juniper Capital, Industrial Finance Corporation of India, Religare, ICRA, Fullerton Securities, Gensol, GrowX Ventures etc. National Commodities & Derivatives Exchange Ltd (NCDEX) offered its Commodities exchange profile, while Gensol offered its carbon trading role and American Express offered both its Risk Management as well as S&M profile, adding to the diversity of roles available to the students.

Marketing
A marketing powerhouse, FMS Delhi witnessed the return of Colgate Palmolive, HCCB and Marico to campus in these Summer Placements. FMS now boasts of relationships with almost all major marketing and FMCG companies in India. Hindustan Unilever and P&G led the way with 5 offers each, while ITC made the highest number of S&M offers at any campus this year. Kraft-Cadbury, Coca Cola India, Nestle, Colgate Palmolive, GSK Consumer Healthcare, Hindustan Coca-Cola Beverages, Reckitt Benckiser, Johnson & Johnson, Wrigley, Pepsi, Britannia, Dabur, Godrej, Marico, Kimberly Clark, Heinz, SABMiller, Perfetti Van Melle, CavinKare etc also recruited in large numbers from the campus. International roles were offered by Hindustan Unilever and Coca Cola, while P&G and Kraft-Cadbury offered their Supply Chain role on campus for the first time.

In addition to the FMCG's, a number of other companies offered their S&M roles at campus, led by Microsoft with 6 offers, and closely followed by Yum Foods, Vodafone, Aircel, Idea Cellular, Philips, Hewlett Packard (Product Marketing), GSK Pharma, Amazon, DaimlerChrysler, Aviva, Madura, The Nielsen Company, Tata Motors, Tata Steel, Titan, Jindal Steel, Eli Lilly, Genzyme, Lifestyle, Indus Towers, NIIT, Starcom MediaVest, HT Media, Cinepolis etc.

Adobe and Genzyme recruited exclusively from FMS this year.
General Management
TAS and Mahindra& Mahindra led the way within the general management domain, offering 5 and 6 offers respectively, while Bharti Group, Religare, Arcelor Mittal, HCL, DCM Shriram Group, Larsen & Toubro (L&T), Vedanta, Cummins Group, Muruguppa Group etc also made a significant number of offers. The Tata Group once again emerged as the biggest consolidated recruiter on campus, with participation from a number of group companies such as Tata Capital, Tata Motors, Tata Steel, Titan and TCS, in addition to TAS, while Aditya Birla Group recruited through its group companies.

In addition, public sector units made a strong impact on summer placements, with a large number of students rejecting private sector offers to join Oil & Gas sector behemoths ONGC and HPCL across their corporate finance, marketing and HR functions.
IT
IT Consulting also made a strong resurgence at FMS, with GE (IMLP), Hewlett Packard Consulting, Wipro Consulting, Lenovo, Tata Consultancy Services, HCL Infosystems, Patni Computers, Birlasoft, Dassault Systems, Info Edge, Spanco Tele, and Aricent enthusiastically participating in the process. Lenovo emerged as the biggest recruiter amongst these with 6 offers.

Diversity of Profiles
FMS Summer Placements 2010 saw greater focus on practical aspects of a job such as profile and function, over stipend. A number of students chose to pursue roles in top media companies such as HT Media and Starcom MediaVest, while others opted for niche profiles offered by firms as diverse as NCDEX and Genzyme. A highlight of the summer placements was the variety of profiles, including Supply Chain and HR, offered by companies such as P&G, Kraft-Cadbury, Adobe, Wipro, L&T, Cummins etc for the first time on campus.

FMS also built strong connections with top PSUs in the country such as ONGC, PGC, GAIL and HPCL, PNB reflecting the students' desire to contribute to and be a part of national growth while excelling in their preferred domains.
Concluded.

.