IIM Calcutta does it again, highest number of Slot zero offers across IIMs in Summer Placements 2010
| November 22,2010 06:08 pm IST
IIM Calcutta's summer placement process for the batch of 2010-2012 kicked off on November 10, 2010 and concluded on November 15 with placements being suspended for a day in between (in lieu of the Golden Jubilee celebrations) on November 14. The process lasted for a total of five days at the end of which all students who were a part of the placement process accepted offers.
The process was conducted in slots with each slot lasting for two days. Slot-0 took place on the 10th and 11th of November, Slot-1 on the 12th and 13th, and Slot-2 began on the 15th after a break on November 14. The process came to an end in slot-2, with all 353 students who sat for the placement process receiving offers by the fifth day. A total of 125 recruiters participated in the process across the 5 days.
Slot Zero
Slot zero saw a total of 215 students accepting offers for their internships, an unprecedented number of offers in Slot-0 so far. This is also the highest number of slot-0 offers made across any IIM this year. It is an exceptional response from the industry and 62% of the batch was placed in Slot-0.

The slot-zero summer placement process for the batch of 2010-2012 of IIM Calcutta took place over two days, 10th and 11th November. The first day saw international investment banks, private equity firms and global consulting firms picking students, while the second day of slot-0 had firms like Hindustan Unilever, Procter & Gamble, Tata Administrative Services (TAS), Diageo, Aditya Birla Group and Edelweiss offering marketing, general management and finance profiles.
International Offers
Over 75 students will be interning in international locations, an increase of 20% over the last year. Internship locations offered include New York, London, Hong Kong, Singapore, Thailand, Dubai and even Vietnam and South Africa.

Sector-wise Information
In keeping with the institute's reputation as the finance-campus of the country, 37% of the students in the batch of 2010-12 have opted for internships in finance. 20% of the students will be interning in consulting firms, 28% of the students in marketing roles and 8% in general management.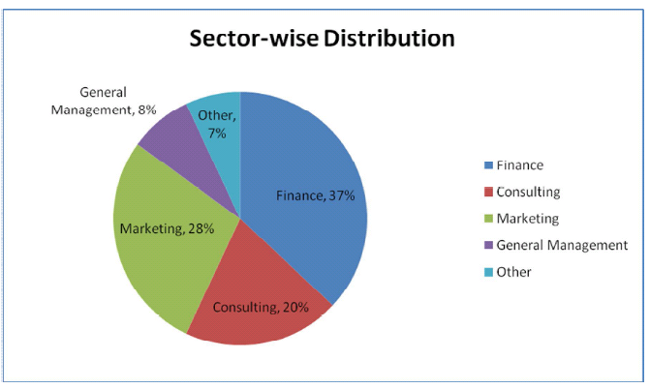 Finance
A $6 billion hedge fund visited campus to pick students this year –only the second time that a hedge fund has visited an Indian B-school. It was in 2005 that a hedge fund had for the first time picked up 2 interns from IIM Calcutta. This year, the hedge-fund (name undisclosed) famed for recruiting only from Ivy League B-Schools in the US, broke tradition and hired from IIM-C. Once again, IIM Calcutta was the only campus in the country to host hedge-funds during placements.

A student has been offered an internship at the Chief Investment Officer's desk at JP Morgan, which is the only such offer made across all IIMs.

On the first day of the process, RBS was the largest recruiter with 15 offers, which, coming from an ibank, is an unheard-of number in recent times. UBS made 12 offers at IIM Calcutta, the highest across any campus in the country. Macquarie Securities, visiting IIM campuses for the first time, made thrice as many offers as at any other campus in the country. Other major recruiters included Barclays Capital, Credit Suisse, Goldman Sachs, Nomura, BoA Merril Lynch, Morgan Stanley, JPMC, HSBC (Global), Citigroup and French investment bank BNP Paribas.

Boutique investment banks Elara Capital, Equirus Capital and Private Equity firms Jacob Ballas Capital, Multiples PE, M-Cap Fund Advisers, Clearwater Capital and Walden International also hired from the campus on the first day, offering a variety of finance roles. Houlihan Smith, a specialized investment bank, recruited exclusively from IIM Calcutta.

Consulting
Consulting was one of the top picks for students at IIM Calcutta this year, with 20% of the batch set to intern in various consulting firms this summer. McKinsey & Co, Bain & Co and AT Kearney made the highest number of offers at IIM Calcutta across all IIMs. There has been a 44% increase in the number of offers by slot-0 consulting firms compared to last year. Accenture was the highest recruiter (8 offers), with Feedback Ventures, Ernst & Young, KPMG and Frost & Sullivan also hiring students for consulting profiles.

Marketing & General Management
28% of the batch will be interning with marketing firms and 8% in general management profiles. Regular FMCG recruiters Hindustan Unilever, P&G, Nokia, Diageo and ITC were back this year, recruiting students in large numbers. ITC (8 offers) was the largest FMCG recruiter followed by P&G (6 offers). Other major FMCG recruiters who participated in the process are Coke, Pepsi, Airtel, Kraft, GSK and Marico. Tata Administrative Services (TAS) hired interns for its hugely successful leadership programme. Among Indian majors, the Aditya Birla Group, Mahindra & Mahindra and the RPG group offered general management roles.

Highlights
Highest number of Slot-0 offers across all IIMs
Only campus in India to host a hedge fund
Highest number of offers across campuses by 3 slot-0 consulting firms
Played host to 13 of the Top 20 global investment banks (based on Thomson's League Tables)
Reputed law firm L&S hired students to work on strategy. This is the first time such a profile is being offered.
NGOs such as CRY also recruited from the campus, providing the students with an opportunity to work in the social sector

Batch Profile
The batch of 2010-12 had 68% students with prior work experience, compared to 63% last year. The average work experience of the batch is 20 months. The batch had a total of 91% engineers apart from doctors, economics graduates, naval architects, botanists & accountants, amongst others.

Conclusion
The 2010 summer placement process has reaffirmed the trust that recruiters place on the institute. There has been a considerable increase in both the number of offers per firm and the diversity of internship profiles offered to students this year.
.