SIMSREE Final Placements 2012: Google, Nomura, Supermax recruited for the first time
| June 15,2012 10:46 am IST
The placement season for 2012 at Sydenham Institute for Management Studies, Research and Entrepreneurship Education (SIMSREE) was one of the best amongst all B- schools in India. Even though hiring across various companies had slowed down, SIMSREE saw new recruiters who chose to hire from this B-school.
This season was spectacular considering the new names that were added to our already impressive list of recruiters. Companies like Google, Nomura, Cognizant Business Consulting , Supermax, DHL and Credit Suisse visited SIMSREE for the first time and were impressed with the quality of students.
A total of 91 companies participated in the placement process offering as many as 152 jobs to the batch with the average job per student working out to be 1.4.
The highest package offered on campus was Rs. 18 Lakh and the average package for this year was Rs. 10.12 lakh. Some companies even chose to make pre-placement offers to our students for their exceptional performance during their summer internship.
The top companies which recruited from campus this year also included Tata Motors, Godrej and Boyce, Citibank, JP Morgan Chase, Castrol, ICICI Bank, Fidelity, HDFC Bank, BASF and Deutsche Bank.
BFSI once again emerged as the favourite amongst students with 35% of the batch opting for companies offering roles in that sector. A good number of students also opted to take up placements in the fields of Consulting, FMCG and IT.
Another point of note is that most companies on campus this year chose to give out their most sought after profiles of Management Trainee with a substantial amount of students being privileged to be picked up for the same by these companies.
Even though the year of 2012 saw many companies slowing down on hiring, SIMSREE was probably one of the very few b-schools across India to have actually added to their already huge list of recruiters. SIMSREE has grown from strength to strength which is clearly visible through the faith that recruiters have shown. We, at SIMSREE, strongly believe that the sky is the limit and that the next year will bring forth even better recruitments for the batch of 2011-2013. I would like to thank and congratulate the Executive Placement Committee and the batch of 2010-2012 for the exemplary efforts put in this year to make this placement season a resounding success. Dr. M. A. Khan, Director.
Snapshot:
Total No. of students eligible - 107
Total No. of offers - 152
Total No. of companies on campus - 91
Average CTC - 10.12 LPA
Highest CTC offered - 18 LPA
Sector wise Distribution of offers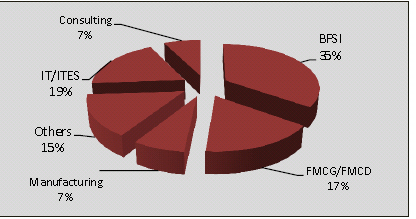 Some of the profiles offered: As mentioned in the introduction, the institute was offered Management Trainee profiles by some of the biggest Corporates. These profiles are offered only to the best institutes in the country. Tata Motors, Fidelity, BASF, SuperMax were some of the companies who recruited Management Trainees. In addition, profiles like Brand Management, Marketing Communications, Market Research, Project Finance, Commercial Banking, Consulting, Supply Chain & Logistics were offered to students, to name a few.
Specialization wise highest package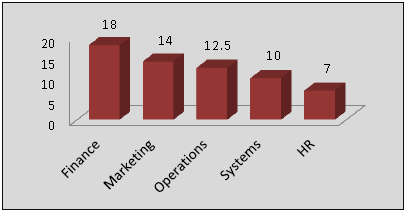 Placement Data
Finance
Number of students: 56
Number of companies: 52
Average package: 10.01 lpa
Top recruiters : Nomura, JP Morgan Chase, Citibank, Credit Suisse, ICICI Bank, Deutsche Bank
HR
Number of students: 5
Number of companies: 10
Average package: 6.8 lpa
Top recruiters: HDFC Bank, Setco Group, KPMG Advisory Services Pvt. Ltd, Global Delight
Marketing
Number of students: 42
Number of companies: 57
Average package: 10.46 lpa
Top recruiters: Tata Motors, Google, Godrej & Boyce, SuperMax, DHL, Lodha Group
Operations
Number of students: 8
Number of companies: 21
Average package: 8.8 lpa
Top recruiters: Godrej & Boyce, DHL, Kansai Nerolac, Gati Limited, Grasim Industries
Systems
Number of students: 5
Number of companies: 19
Average package: 8.95 lpa
Top recruiters: Cognizant Business Consulting, Infosys, iGate Patni, TCS, Dun & Bradstreet
2010-12 MAJOR RECRUITERS
AC Neilson
Accenture
Alchemist Ark
Avery Dennison
Axis Securities
BASF
Castrol
Citibank
Cognizant Consulting
Credit Suisse
CRISIL
Darashaw
D'Dcor
Deutsche Bank
DHL
Dun & Bradstreet
E-Clerx
Fidelity
Galaxy Surfactants
Gati Limited
Global Delight
Global Talent Track
Godrej & Boyce
Google
Grasim Industries
HCL Infosystems
HDFC Bank
HDFC Life
HDFC Ltd.
ICICI Bank
IDBI Bank
Idea Cellular
iGate Patni
Imaritime
IMRB
Infosys
JP Morgan Chase
Kansai Nerolac
KPIT Cummins
KPMG Advisory Services
L&T Finance
Lodha Group
Nomura
Setco Group
SuperMax
Tata Housing
Tata Motors
TCS
Tresvista
Welspun Group
Wipro Infotech
Wipro Technologies
Zee Learn
.