With More Recruiters & More Offers, IIMC concludes Better Placement for 3rd Batch PGPEX
| September 27,2010 01:20 pm IST
With the help of increased visibility in the niche market as well as among the decision makers in the corporate and industry, the performance of placements of IIM Calcutta's world-class executive programme, PGPEX (the 3rd batch) has been exemplary, inspite of continued recession in the job market, especially among the top and middle management domain. It is worth keeping in mind that overall the quality of offers has been pretty good.
Offers have been made and accepted at the level of Director/VP/GM. Contrary to the last year, this year the number of offers and participation of recruiters were higher. There were 60 companies took part in the final placement with 45 offers for 47 students (Batch strength: 51, 4 students opted out of placement assistance) in respect to 33 companies with 30 offers for 34 students (Batch strength: 37, 3 students opted out of placement assistance) last year.
There were substantial increases in both mean and median salaries over comparable last year's figures. Happily for the batch however the increase in median salary was greater than that of the mean. The average salary this year is 18.4 lakhs, compared to 18 lakhs last year. This also augurs for the next year's placement season. However like last year the highest salary remained at 35 lakhs. Moreover, this year there was an international offer, compared to null last year.
One of the most exciting trends this year is that with the implementation of 6th Central Pay Commission (6th CPC) recommendations last year, 3 students from the batch who had Navaratna PSU backgrounds chose to revert back to their parent organizations. All three had substantial work experience – higher than the batch average of about 10 years – with the minimum among them being 13 years. They found that at their levels of seniority, the revised salaries and benefits were very competitive and lucrative. However 3 other students with private sector backgrounds re-joined their former firms but at more senior positions and better pay package than they held prior to joining the programme and with a different job description.
The recruiting giants from India and global multinationals include McKinsey & Co., Deloitte, TCS, Hewlett-Packard, Mindtree Consulting, Amazon Consulting, Accenture and Sapient in Consulting, Tech Mahindra, Wipro, Rediff.com, HCL and Infosys BPO in IT/ITES/Telecom, Opus Soft, Google (India) and Zycus in Sales and Marketing, KPIT Cummins, Wellspun Group and Siemens in Project Management/Operations and Directi Internet Solutions, Infosys, Tata International and Manipal Education Group in Strategy and Business Development.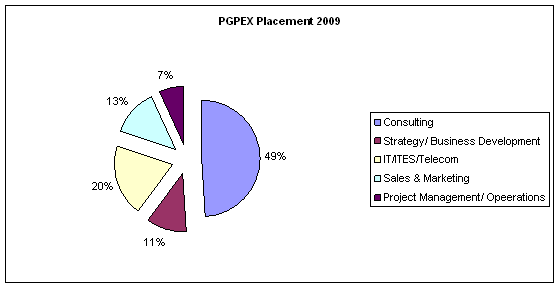 In terms of sectoral distribution, nearly 50% of the jobs this year were in the consulting domain (see pie chart above) as compared with 31% last year. There were fewer jobs in sales and marketing as well as IT/ITES/Telecom sector. However this year also saw jobs in strategy and business development. The offers were as follows: 22 in Consulting, 9 in IT/ITES/Telecom, 6 in Sales/Marketing, 5 in Strategy/Business Development and 3 in Project Management/Operations.
About 52% of the students joining the programme had a work-experience background in IT/ITES sector. Therefore, in keeping with the last year's trend, this year as well, PGPEX placements allowed students to leverage their past work experience and stay within the same sector or leverage the PGPEX programme to switch out of sectors. Finally, one student rejected a good offer to join a network security start-up. A swallow does not make the summer, but the PGPEX programme is about allowing people to make these kinds of choices. All in all a satisfying placement season that augurs well both for the programme as well as the 4th batch.
Concluded.
.