MDI reinstated its stature in Summer Placement
| March 12,2013 11:40 am IST
Summer Internship is an indispensable part of a B-School's curriculum; therefore we at MDI take the summer placement process very sincerely. As an intern, a management student gains a broader understanding and develops a holistic perspective of the practical aspects of businesses.
The students accomplish this by utilizing the chance to shoulder the responsibility of taking decisions by applying their classroom learning in a complex real life business scenario. Even in the midst of a sluggish economy, MDI was once again successful in providing its students the chance to intern with the established names in the industry.
STUDENTS' FACTS AND FIGURES
A total of 236 students from the Post Graduate Programme in Management (PGPM) and 62 students enrolled in the Post Graduate Programme in Human Resource Management (PGP-HRM) were part of the student pool for the summer placement process. The Class of 2014 had a healthy mix of both fresh graduates as well as students with prior work experience.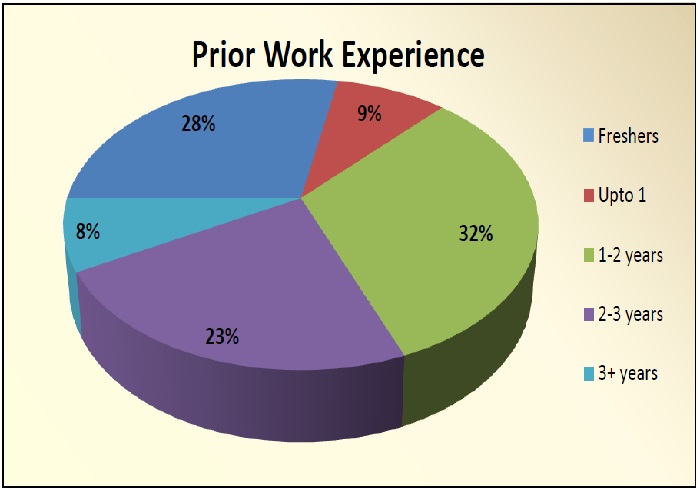 Approximately 28% students in the Class of 2014 have entered MDI fresh out of college, while the remaining 72% have prior work experience in varied sectors.

KEY STATISTICS
MDI Gurgaon has successfully concluded its Summer Internship Placements 2013 and this has reinstated its stature as one of the premier B-Schools in the country. Despite the uncertain economic environment, more than 150 companies across various sectors confirmed participation at MDI in order to choose from amongst the best minds in the country. The final tally of companies hiring from MDI stood at an impressive 119 for the total 298 students participating in the process. We would like to thank our regular recruiters and several new ones who participated in the process and showed faith in our students.
The average stipend for the internship period this year was INR 80,885. While the average for the PGPM Batch was INR 80,543 that of the PGPHR Batch was INR 82,166. The median stipend for the internship period this year was INR 76,500. American Express, Axis Bank, Deloitte, Goldman Sachs, JP Morgan, Perfetti Van Melle, Philips, PricewaterhouseCoopers and Reliance Industries Limited were the largest recruiters.

Numerous new profiles were opened by legacy regular recruiters further strengthening their association with MDI. These included companies like Citibank, Coca Cola, Deloitte and PricewaterhouseCoopers among others.

The current year also saw 46 new companies (41% of the total number of companies making final offers) participating in the process at MDI. These included companies like Bombay Dyeing, Bristlecone, Dell, GroupM, Henkel, IDBI Federal, IMaCS, Jones Lang LaSalle, Loreal, Michelin, Naukri.com, PeopleStrong, Reliance Industries Limited, Robert Bosch, Tata Capital, Titan and Uninor.

SNAPSHOT

PGPM SUMMER PLACEMENTS
The FMCG companies were major recruiters at MDI this year. The major names in this sector were Coca Cola, Colgate-Palmolive, Dabur, Godrej, Loreal, Nivea, Pepsico, Perfetti Van Melle, Procter & Gamble, Reckitt Benckiser and Wipro Consumer Care among many others. These companies offered various profiles across Sales & Marketing, Operations and Finance domains. International profiles were offered by two companies.

In total, close to 45% of the batch took up roles in the Sales and Marketing domain. Other major recruiters in this domain were Airtel, Asian Paints, AkzoNobel, Cargill, Castrol, Eli Lilly, Emami, Henkel, Lenovo, Michelin, Pidilite, Philips, Uninor and Vodafone. Some of the renowned banks like Axis Bank, American Express and Citibank also offered various Sales & Marketing roles.

Despite the economic slowdown, Finance was the sought after profile for a large portion of the batch. The domain was led by renowned multinational financial firms like American Express, Axis Bank, Citibank, Coca Cola, Goldman Sachs, HSBC, ICICI, IDBI Federal, JP Morgan Chase, Jones Lang LaSalle, and Langham Capital among many others. The offers were made for roles in Investment Banking, Wholesale Banking, Retail Banking, Equity Research, Asset Management, Treasury, Trade Finance, Corporate Finance, and Private Equity.

Consulting profiles were offered by leading companies like Avalon Consulting, Bristlecone, Cognizant, Deloitte, Dexter Consultancy, Genpact, IMacs, PricewaterhouseCoopers and SAP among many others. Deloitte US India offered S&O and AERS profiles. Notable mentions in the General Management domain included Mahindra & Mahindra, Raymond, Reliance Industries Limited and RPG which hired in good numbers.
On the operations front, recruiters like Bristlecone, Citibank, Flipkart, Jindal Steel Power Limited, Metlife, Michelin, Philips, RPG, Robert Bosch, Tata Motors, Uninor and Wipro offered roles across diverse sectors.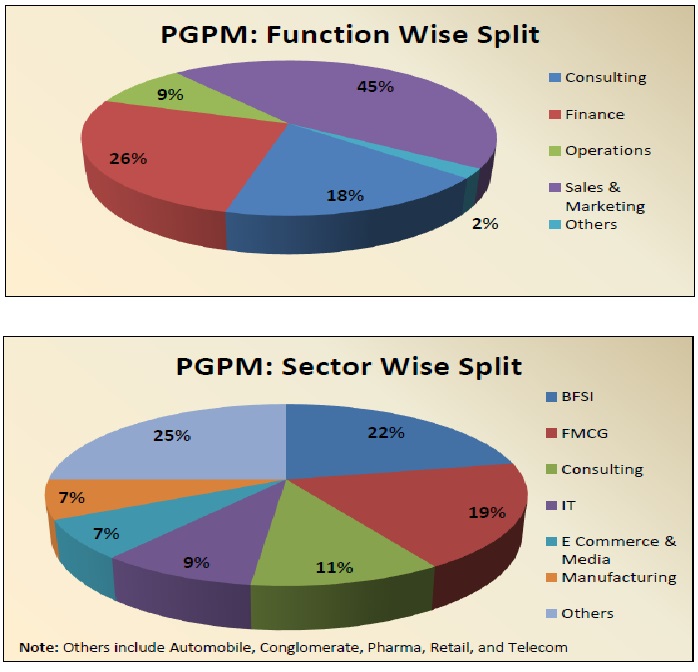 PGP-HRM SUMMER PLACEMENTS
The major recruiters for HR students offered roles in both Human Resources and Industrial Relations (IR). These included companies from varied sectors such as Automobile, Pharmaceutical, Food and Beverages, FMCG, Banking and Financial services, HR & Strategy Consulting, Telecommunications, Consumer Durables, Fashion & Lifestyle, etc. Companies such as Aon Hewitt, Apex, Asian Paints, Axis, Deloitte, Eli Lily, Ernst & Young, Godrej, GlaxoSmithKline - Consumer Healthcare, Madura, Mahindra, Mercer, Michael Page, PeopleStrong, Philips, PricewaterhouseCoopers, Reliance Industries Limited, Tata Motors, Tata Sons and Vodafone among others offered roles in HR and IR to the students.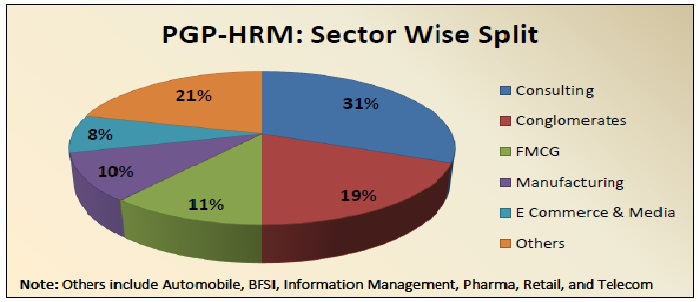 .