My Summer Internship experience with CCD
| July 30,2012 02:24 pm IST
It was 28th April, 2012 when our placement team informed me that I had been selected for summer internship at Cafe Coffee Day. At that time i did not have clarity of my work profile, as an intern at Cafe Coffee Day.

EXPECTATION: I had visited CCD outlet just couple of time, with my friends as a customer, so I knew what the organization was into. I presumed that my job would be allotted in one of the outlet, where I would have to learn the regular operations. I had come to know from my friends that CCD has launched a loyalty card named Cafe Moments Card'. So the second thing that came to my mind was ' we will have to promote and sell those 'Cafe Moments Cards'. As we were to work there, just for 2 months, so i was not expecting much. I believed that an organization would not be interested to give more exposure to an intern. It will be just going and coming from home to CCD outlets throughout the two months, and could be helping in some promotional activities. Since, it was my first job experience, I was desirous of a good learning experience which would add value to me and enhance my skills for a better prospect in future. But truly speaking, there was big ambiguity; I had, about my job till the onset of my internship.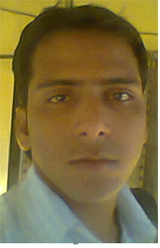 EXPERIENCE: After two months internship at CCD, today when I try to evaluate and compare my expectations with my experience, there is a wide gap, i.e. what I experienced and what I had perceived about my job profile. They proved my perception very wrong by providing a lot of opportunity.

The first couple of days at Caf Coffee Day were very boring as it included just documentation process. After few odd days our project guide, Mr. Aniruddha Amte, gave us brief idea about what we are going to do in next two months. After knowing from him that we have to do four different projects in those two months, I became very happy- suddenly could find ray of hopes to fulfill my desire- opportunity to learn . The only thing which matched with my expectation was that, one of those projects would include promotion and selling of, caf moments card, but was to be done for only first three weeks.

After that we were allotted different field work and project work. It was not just travelling from home to office; it was really a hard work which got me acquainted with various aspects of Marketing in real life application. These two months turned to be a good learning experience for me.

What I liked about my job and company were that
1) We were treated as internal employee of the organization.
2) We were part of their core business strategies, which have impact on their revenue generation strategies.
3)We had high degree of freedom to ask question and also to give suggestions.
4)They not only listened to our suggestions keenly, but also implemented many of them. This gave us the confidence and satisfaction.
5)To give us the practical knowledge of work place they sent us for field work frequently.
6)Each project given to us was under time bound condition with in which we had to submit the project report. I enjoyed this dead line driven concept and found it challenging, which pushed me to achieve and excel.
7)After submission of each project they took session to give us feedback and also suggesting for area of improvement. I liked the way they were involved with us.
One incident which I feel worth mentioning here is that in one of our project we had to analyze a potential market and thus suggest new locations for opening of caf coffee day outlets. We suggested some location based on the different facts which, we thought, will improve the business.
Doing some ground research of, customer and competitors existence. They entrusted confidence in our analysis and the CCD administrator team analyzed those different locations suggested by us and opened the new outlet at those places where they were convinced with our finding, just within a couple of weeks. It was a real trigger & boost to my confidence. I admired their quick decision making skills, towards business opportunity.
The documentation process took two days, when the task seemed boring. There was lots of field work in the hot days of May and June. Looking at this factor they agreed to reimburse the travel expenses which they had not agreed to pay before we joined as interns. I appreciated, this realistic and empathetic approach of decision based on circumstances.
So I would like to summarize the whole experience as a great learning time where I had not expected anything more than just boring routine work at Caf Coffee Day outlet, but I got an opportunity to work on different aspects of marketing concept. Returned with confidence and satisfaction.
Concluded.
.