Become CoolAvenues Columnist/ Knowledge Ninja/ Author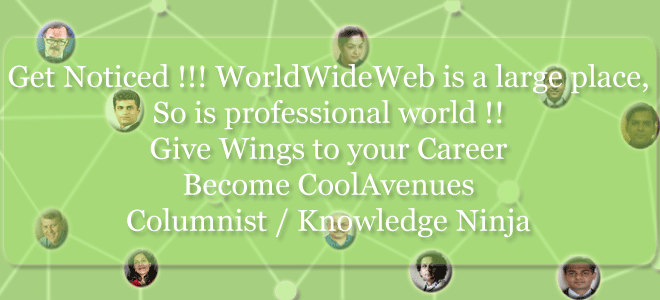 CoolAvenues Columnist
Passionate about writing!!!
We are crazy about authors who can weave words and give their own perspective to any issues (management / non management) in 200 to 400 words with a crisp style and sharp analysis.
If you got the talent, we have got perfect platform for you.
Your work will be seen by more than 3 Lakh visitors a month and will help you to reach who's who of management community by sheer power of your pen.
Click here NOW to get in touch and who know you will be on home page very soon along with many rewards
Knowledge Ninja
Are you passionate about reading and surfing the Internet and have a passionate view in your subject / interest area?
If yes, you are the Super Hero we are searching for!!
You are going to be leading light who will scan content from web and bring to readers the best of best from www in chosen subject area.
Apart from getting updated with latest development in your field, you will not only become Knowledge Ninza in Management areas but also be part of Editorial Board and get attractive rewards. Apply Now
CoolAvenues Topics
1. Finance Area : Private equity / Venture capital / Fixed Income / Mutual Fund / Derivatives / Options / Mutual Fund / Corporate Finance / International Finance / Book reviews
2. Marketing Area : Brand / Marketing / Sales / Advertising / Service marketing / International marketing / Consumer Behaviour / Book reviews
3. Human Resources : Recruitment / Training / Organisation behavior and design / HR Challenges in Startup / Book reviews
4. Strategy : Corporate Strategy / General Management / Scaling up / Book reviews
5. Entrepreneurship : Scaling up / Fund Raising / Recruitment challenges / Book reviews
6. Operations : SCM / Operations management / Operations Consulting / Book reviews
7. Information Technology : IT in Management / Data Analytics / Technology Management / Book reviews
8. Life @ B-School : B-School Diaries / Journals / Campus updates / Book reviews related to Campus life / Cartoons
9. Life Style : Non management topics - Gadgets review / Travelogue / Life style / Satire / Book reviews / Cartoons
CoolAvenues' Policy
All articles / write-ups sent to CoolAvenues must be your original literary efforts, and they should be sent along with a formal statement from the author confirming that the work submitted by the author is indeed his/her original work (and if adapted, then done so with due credits to the concerned author).

In case you are forwarding some joke / poem of some other author, or making contribution from some other source, kindly give the name of the author and the concerned website.

Please keep in mind that all articles published on CoolAvenues.com conform to CoolAvenues Copyright Policy, and by submitting the articles by e-mail, the author agrees to the terms in CoolAvenues Copyright Policy.