Great Lakes Institute Hosts Alumni Meet & Sangamitra
On the 23rd of April 2007, Great Lakes hosted its Alumni Meet and the Sangamitra.
The Annual Alumni Meet and Sangamitra, the bi-annual cultural event, was hosted at the scenic resort, Green Meadows. What with the beach right next to it, the lush gardens, cool evening breeze and the colorful stage, the timing couldn't have been more perfect.
The event began with welcoming the alumni. The meet provided an excellent platform for the junior crusaders present to get to know the Crusaders batch up close and also to interact with the alumni. It always helps to have a network in the business world and this presented itself as a wonderful opportunity. Of course there was a lot of catching up between the batches that were subsequent to each other! It was pleasing to see the turn-out of the alumni. They had taken time out from their busy schedules and some had flown a long way to attend the event. The alumni exemplified the fact that Great Lakes has given out some great people to dream companies like Godrej, Infosys, Cognizant, CTS, CSC, and many others occupying top-notch positions and enviable profiles.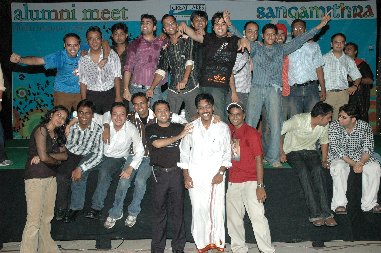 Alumni of Great Lakes on the Ocassion of Alumni Meet & Sangamitra
The event also marked the launch of The Great Lakes Alumni Portal by the Crusaders - Manik Kinra and Sitashwa Srivastava. The portal provides an opportunity for all the Great Lakers to stay connected through out and share their moments. It has features like Forum, Wall of Fame, Directory and others to help in the desired motive. The portal is intended to be updated on a continuous basis with the programs offered currently and corresponding books referred for reading so that the alumni can remain updated on the current management trends even after passing out. They can even order reading material based on their requirement. The alumni portal sure goes a long way towards strengthening the ties and reducing communication gap between any current batch and the seniors. Kudos to the team for the effort!

---
Contributed by -
Manik Kinra,
PGPM - 2007,
Great Lakes Institute of Management, Chennai.