IIFT Delhi Students Pitch in for Kosi Flood Victims
Students at the Indian Institute of Foreign Trade, on Wednesday, came forward in a bid to help out the flood victims of Bihar by collecting clothes for them at the institute. The students had been collecting clothes on their Delhi Campus over the past few days, and on Wednesday, September 10, handed them over to a volunteer from AID India, who will hand over the clothes to Goonj, an NGO which has been working extensively with the flood victims who have been bearing the brunt of the Kosi river in Bihar. The effort was co-ordinated by Koshish, the social welfare club at IIFT.
Besides this, a Blood Donation Camp was held at the Delhi Campus on Wednesday in association with the Rotary Club and the Innerwheel Club of New Delhi.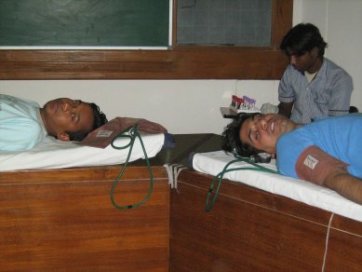 IIFT Students Donating Blood for Kosi Victims
More than 70 students came forward to donate blood on the day, and after strict physical checks by the doctors present, about 58 units of blood were collected. Those who participated in the blood donation camp included some IIFT alumni as also some students from the neighbouring B-schools.
For many students, donating blood was a first-time experience, but an experience they all cherished. Many of them, in fact, decided that they would donate blood again as they were made to realise by the doctors that it was an activity which has the power to save so many lives.
"Earlier, I never bothered to think how people with Thalassemia must be dealing with the constant problem of transfusions. Today, I realised how important it is for healthy people to be more forthcoming in donating blood," said a first-year student at the institute.
Students at the institute had put in a lot of effort over the past few days, organising as well as publicising the camp, and also in collecting clothes for the Bihar flood victims. Posters had been put up all over the neighbourhood area as also the IIFT campus.
Concluded.

---
* Contributed by -
Vividha Kaul,
Media Co-ordinator,
IMF-IIFT Students' Body,
IIFT, New Delhi.