Seminar Series Confluence '09 at DoMS, IIT Delhi Discusses "Marketing in the Time of Recession"
Confluence, the much-awaited seminar series, organized by the Department of Management Studies, IIT Delhi, conducted the first in the series, based on the theme "Marketing in the Time of Recession". The event saw two sessions, a morning session which saw various industry leaders making presentations and sharing their thoughts on the theme, the afternoon session was a panel discussion dwelling on the same theme.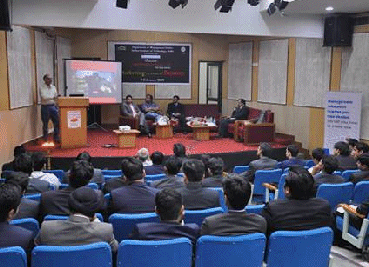 Presentations Being Held at DoMS, IIT Delhi During Confluence '09
The morning session was chaired by the Assistant Professor of Marketing, Prof. Harish Chaudhary. In his opening speech, he gave the audience a brief introduction to the world of marketing and how there was an urgent need for marketers to get back to basics.
The first speaker for the day was Mr. Sandeep Vij, the Executive Director & Chief Knowledge Officer of Mudra Communication. Mr. Vij is also the Co-Founder of Agencyfaqs! With interesting analogies and metaphors, he showed how it was time for marketers to woo back consumers as the recent past had seen a relationship in recession between the consumer and the marketer. Closing with a word of advice in the form of a quote from Bill Bernach, "The future, as always, belongs to the brave." Mr. Vij said that these were situations where we could not afford to fall back or hesitate but move forward.
Mr. Vaibhav K. Tanwar, Marketing Manager of Godrej Lifespace, gave the next presentation, "Back to School". He delved into the basics of marketing and how these were to be applied in this particular recessionary scenario. He emphasized that it was essential to focus on existing customers, to encourage judicious marketing expenditure and how pricing is one of the core issues of the day. Ultimately, he said, it was a question of values, such as Godrej projecting trust above all.

---
* Contributed by -
Mary Parayil,
Media Committee,
Department of Management Studies,
Indian Institute of Technology, Delhi.