Things you must carry for an interview
Are you looking for a job change? Job interview is an essential prerequisite before one is actually appointed on a position. One should be very well prepared before appearing for a job interview.
How well prepared you may be, you should never forget 9 things while appearing for a job interview.
1. Resume: Never forget to carry clean copies of your updated resume - enough for yourself and interviewer(s). We often tend to assume that our interviewer has a copy of our resume, but the person taking your interview might not have it. Thus, remember to carry some extra copies.

2. Invite information: Carry the print-out of the e-mail by which you were notified about the interview. If you were invited by telephone always save the name, designation and contact number of the person who informed you as well as name of the person who you're supposed to meet.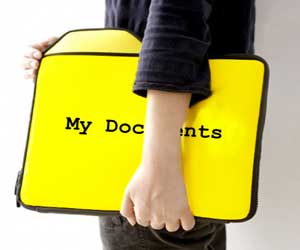 3. Pen and Paper: Never forget to carry a pen and a note pad to note an important thing. Though it is information age and most of the people carry iPhones and Blackberrys, it still saves much time to jot down points on a paper.

4. Your work portfolio: When you are in a creative field it is as important to present your work portfolio as it is to present yourself. Just carry your best works along. Intelligently choose work you want to show. A better idea is to electronically upload your work and share the link.

5. Attitude: Carry a positive attitude before leaving home for an interview. Wear a smile as it shows your positivity towards life - remember everyone likes people having a positive attitude.

6. Be prepared for some obvious questions: Prepare answers to some obvious questions, generally asked during an interview. For instance, Tell us something about yourself?, Where do you see yourself five years down the line?, What are your strengths and weaknesses?, etc.

7. Body Language: Your body language should be very strong and positive. Follow each and every rule of presenting yourself. Watch the way you enter the room, the way you sit and the way you wish the interviewers. Try to look confident but not over confident.

8. Client testimonials: In many sectors, especially where there is direct client dealing, testimonials or recommendation letters are essential as it certifies and recommends you to the potential recruiters.

9. Prepare five questions to ask: Last but not the least, prepare five questions about the company and its business which you can ask the interviewer.
Concluded.
.