Allahabad Bank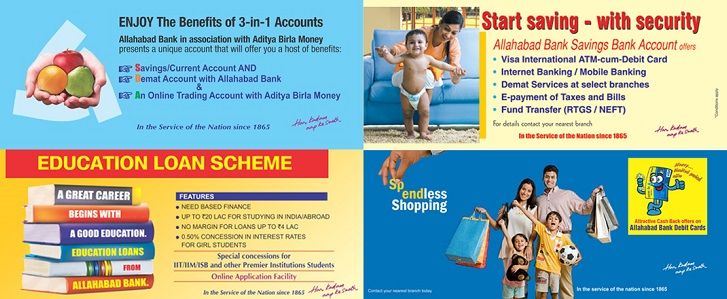 • The Oldest Joint Stock Bank of the Country, Allahabad Bank was founded on April 24, 1865 by a group of Europeans at Allahabad.
• It has over 2,500 branches across India.
• The bank did a total business of INR 3.1 trillion during the FY 2012 - 13.
• The bank has a branch in Hong Kong and a representative office in Shenzen.
The company is listed both in BSE and NSE.
Financials for the year ending 31st march 2014:
Revenue: Rs 13,911.82
EBIDTA: Rs 4,020.43 crores
Net Profit/Loss:1,172.02 crores
Employees10001+
DescriptionAllahabad Bank- bank deposits,international banking,education loans,housing loans
More Information
Key People
• TR Chawla Executive Director
• Rakesh Sethi Chairman and MD
Products / ServicesAll Bank Tax Benefit Term Deposit Scheme, AllBank Premium SB Account, AllBank Mahila Sanchay Account, AllBank Vikash SB Account, AllBank Premium Current Account, Current Plus Deposit Scheme, Sishu Mangal Deposit Scheme, AllBank Monthly Plus, Allbank Salary Advantage Premium, Allbank Liquid Term Deposit Scheme
Phone Number033 2242 0851
Company Office Address
Allahabad Bank
Head Office
2, N. S. ROAD
Kolkata - 700 001
Web Address: www.allahabadbank.in