Brand Calculus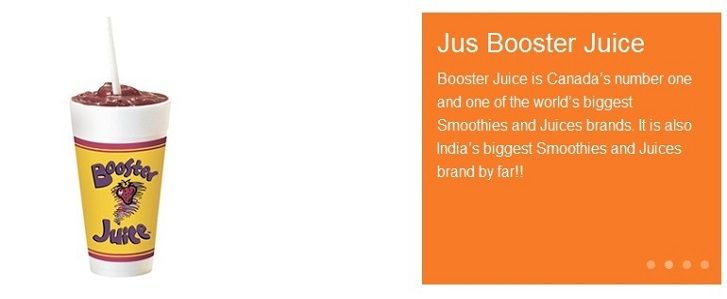 •Brand Calculus is a quick service restaurants with a combination of international brands and home grown brands.
•Brand Calculus took up the master franchisee of Booster Juice (2008) and Kiwi Kiss (2009) and launched its own brand "Jamaican Cafe" in 2010
•Booster Juice Canada is a North American Smoothies and Juices chain that has over 300 stores between Canada, USA, Netherlands, UAE and Saudi Arabia
•Booster Juice, a juice and smoothie bar, is a healthy substitute for a meal after a workout or for an evening out packed with vitamins and antioxidants.
•Kiwi Kiss is one of the pioneers of the Frozen Yogurt business in India. Kiwi Kiss experiments with flavours and introduces a variety of flavoured yogurt. The products called as FroYo is low in fat and rich in probiotics.
•Cafe Jamaica is a completely home grown Espresso Cafe brand that seeks to find a combination of excellence of Tea and Coffee and a friendly environment that together make for a great Cafe experience with friends.
• The company has over 20 Booster Juice outlets spread across Bangalore, Chennai, Hyderabad, Gurgaon, Pune and Mumbai and 2 outlets of Kiwi Kiss and one outlet of Cafe Jamaica in Bangalore.
•The company plans to grow through a combination of own and franchisee outlets.
•Series A funding: $ 3.3 Million from Helion Venture Partners in May 2009.
DescriptionQuick Service Restaurants
More Information
Key People
Fazle A Naqvi, Chairman and Managing Director,
Anoop Sequeria, Chief executive officer
Products / ServicesJuices, smoothies, coffee
Phone Number+91-80-4151 5004
Company Office Address
Brand Calculus Franchising (India) Pvt. Ltd.
No 55, 4TH Floor, 5th Main Road
Kodihalli (Behind Leela Palace Hotel),
Old Airport Road
Bangalore 560008,
Web Address: www.brandcalculus.com